Hot off the press, we wanted to introduce you to our latest beautiful jewellery kit; our Floris Stretch Bangle. It may look intricate with its delicately intertwined flowers, but we promise, it's really simple to put together and we're dying for you to give it a go…
The home stretch
One thing we love about this bangle is that it's created using Griffin Elastic Jewellery Cord. The cord is incredibly easy to work with - and strong too – but being elasticated means that the final bracelet will fit snugly around any size of wrist without dropping down onto your hand.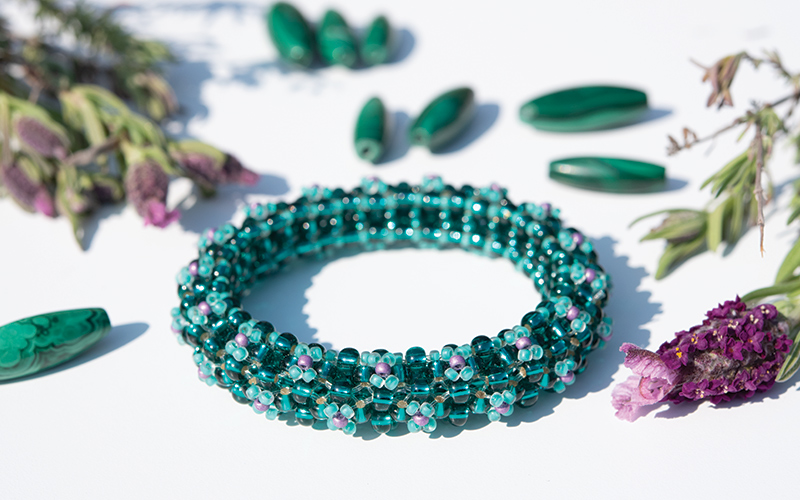 Drunk on choice
We've used our favourite 5/0 Preciosa seed beads for the base of the bangle, overlaid with delicate 9/0 seed beads for the petals of the flowers. The beads come in a dazzling array of colours and finishes so design choices are infinite; will you go metallic, silver-lined, opaque, matt or shiny – and that's just for aperitif?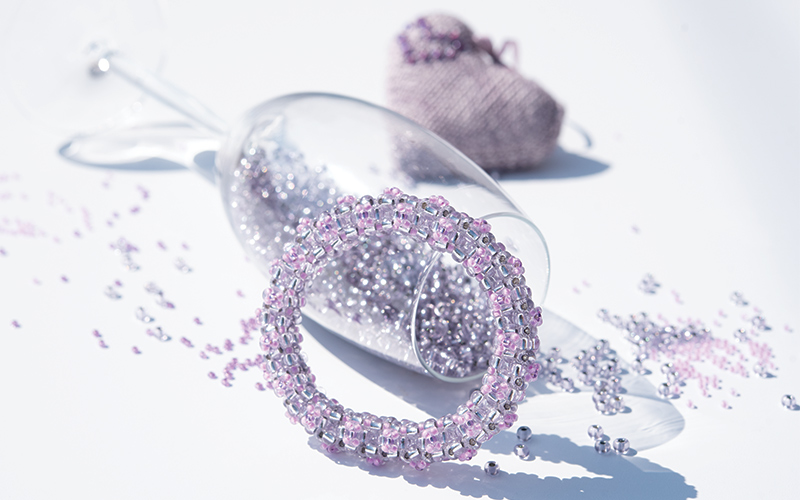 No stitch up!
The bangle is created using a traditional Cubic Right Angle Weave (CRAW for short). Our illustrated instructions walk you through the stitch which, despite seeming complicated at first, is actually really simple once you get going.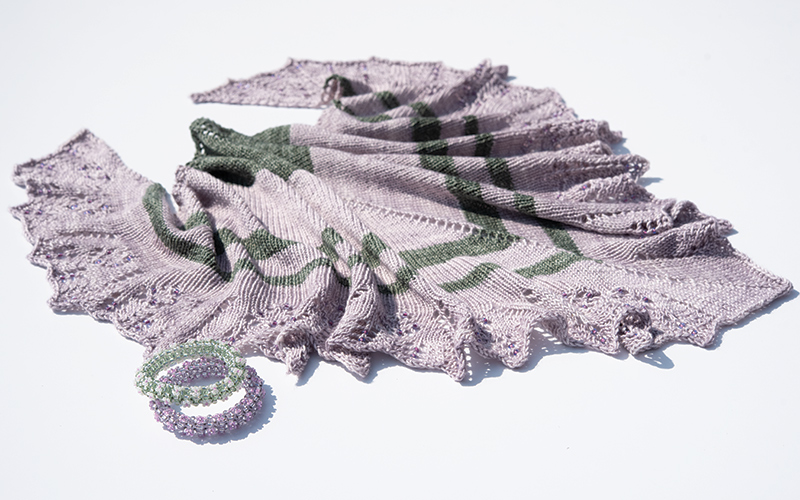 Kit and caboodle
If you're easily boggled by choice, fear not! We've put together a complete Floris kits in a bead combinations that sing with style and spirit.
The kit contain everything you'll need to get started. The only other essentials are scissors, a comfy chair, some soothing music and an hour of 'me time'.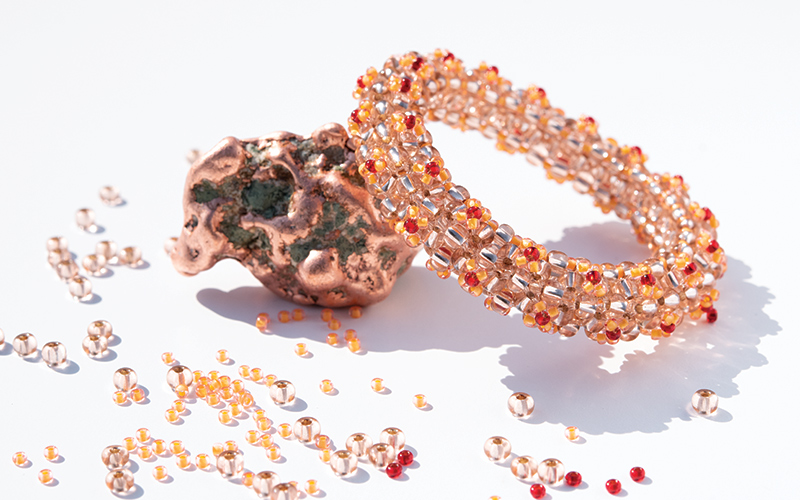 Crystal clear
For something a little extra special, we're also created a crystal Blue Zenith version of the Floris bangle using Swarovski® crystal bicone embellishments for added depth and complexity. The Blue Zenith kit is available in a richly-decadent colourway: Marine Blue, Pink Guava Matt and Rainbow & Majestic Blue Bicone (pictured below).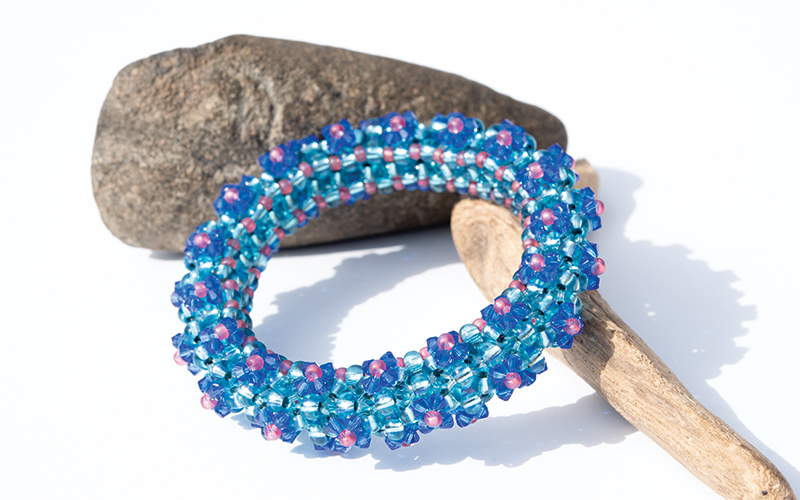 It's a wrap
Finally, I know we keep saying it, but here at Boundless Beads we're avid knitters too! Inspired by the 'Lavender' and 'Wild Garden' versions of our Floris Bangles, we've completed the look by rustling up this wonderful Buttermere scarf designed by Victoria Magnus. If you're a fan of a good old yarn, why not create a wrap of your own? You could even add some beads to your design - this handy video will show you how.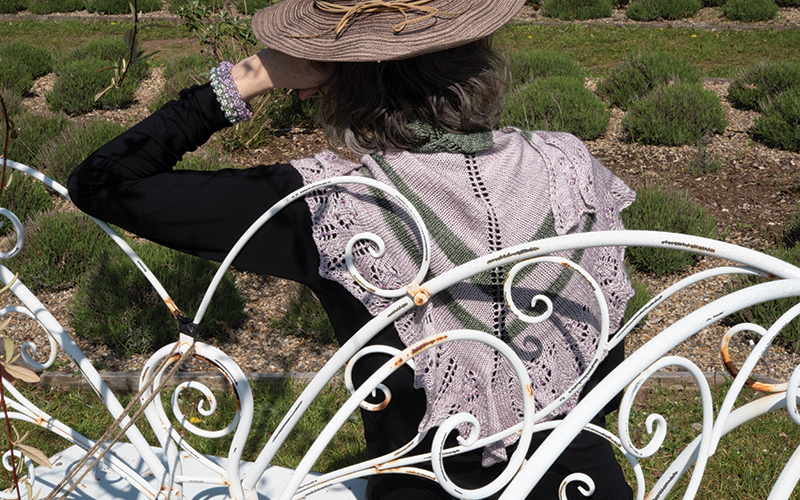 As ever, we love to hear how you get on, so please email us pics of your finished designs [email protected]. And, if there's a jewellery project you'd like our help with, we're all ears.
Happy beading!
Kate, Jonathan and all the team at Boundless Beads.
P.S. One last surprise…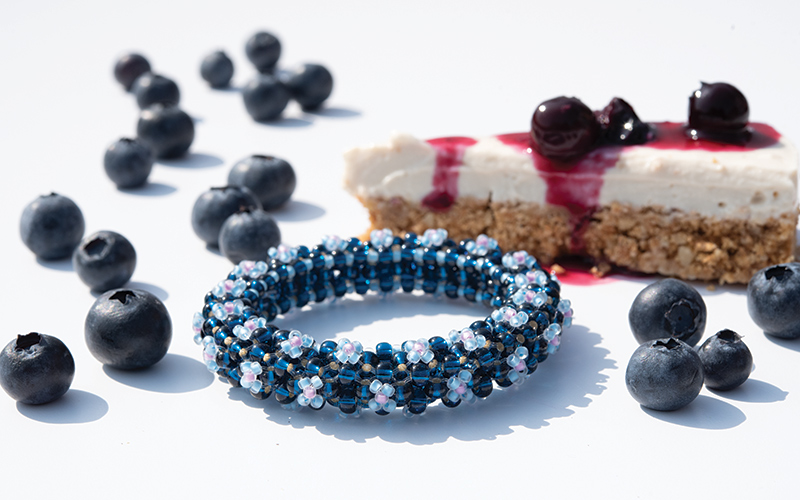 Did we mention one of our bangle colour schemes is called Blueberry Bliss? Funny old thing, but not only do we love the rich vibrancy of the blue beads in this design, we happen to be quite a fan of the fruit too! If you're a bit blueberry obsessed too, take a peek our amazing homemade vegan blueberry cheesecake recipe. Roll up your sleeves (and show off your bangle!) and cook up a little sweet treat for when you're all done with your beading. Yum!
About Boundless Beads
Established in 1992, we are a UK-based, family-run business. We supply exquisite artisan beads and beautifully hand-crafted jewellery elements to the hobbyist market and to wholesale partners up and down the country.
We are privileged to work closely with some of the industry's best glassworkers and bead-makers, many of whom hail from the world-renowned Bohemian dynasties of the Czech Republic. Many of the beads we sell are entirely unique to our collections and can be found nowhere else in the marketplace. Please visit us at boundlessbeads.com