As wild flowers start to festoon the countryside and winter gives way to spring, we're very excited to introduce you to a brand new collection of popping pastel beads. The latest additions to Preciosa Ornela's seed bead palette were an absolute must for us here at Boundless Beads, echoing the captivating spring colours of wild daffodils, forget-me-nots, bluebells, cuckoo flowers and unfurling leaves.
Crafted using centuries-old methods in Bohemia, these artisan beads are not only beautiful but tough; colourfast, washable and wear-resistant.
The eye-catching new Saffron, Tropical Peach, Ice Green, Conch Shell Pink, Orchid Violet and Chalk Violet PermaLux 9/0 seed beads light up any design. With so many gorgeous colours to choose from, we've created two projects to really show them off!
The future's so bright, I gotta wear shades
The first is a zigzag beaded glasses chain to add a dash of panache to your sunglasses (or your specs, if you're fed up with looking down the side of the sofa for them only to find they're on your head).
This one is perfect for beginners, or experts looking for a satisfying mini project!
You'll find step-by-step illustrated instructions and everything you'll need to create the chain in the kit, presented in an A5 Boundless Beads pillow box (the beads are even presented in their own mini pillow box). Whether you'd prefer gold or silver connectors is up to you, just let us know in your notes at checkout.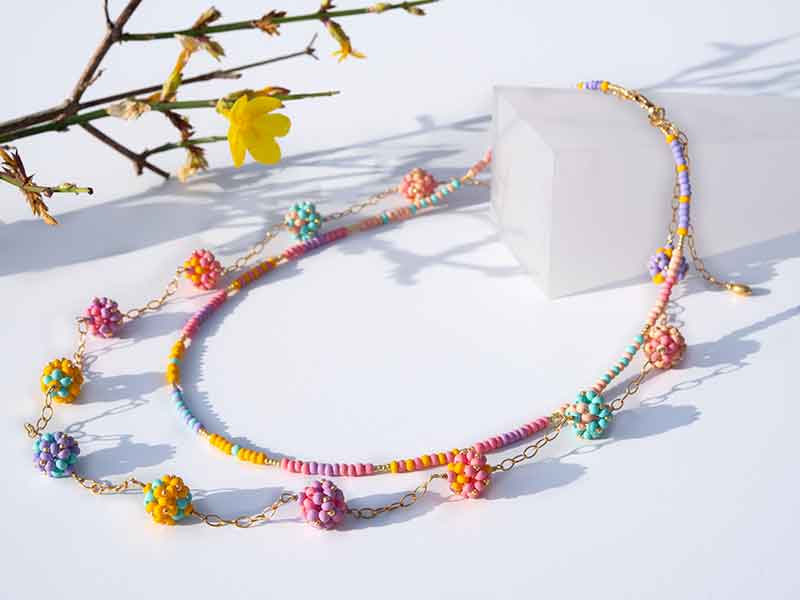 The Mezma Jem necklace
Beaded bead clusters fashioned into a statement necklace are, we think, the ideal way to maximise the impact of Preciosa Ornela's glorious little pops of colour.
A project for experienced beaders, the Boundless Beads-designed two-strand Mezma Jem necklace combines the irresistible chalky pastels of the seed beads with a glimmer of 13/0 terra gold charlottes to create a piece you'll want to wear all spring and summer long.
The Mezma Beaded Bead Kit includes the diagrammatical instructions along with everything you'll need to create the beaded beads, presented in an A5 pillow box.
For the necklace, you'll need a few extra items – all the information is on the bead kit page or get it here. Then, our step-by-step video tutorial will take you through creation of the necklace itself.
While you're at it, why not make a pair of beaded bead earrings to finish the look.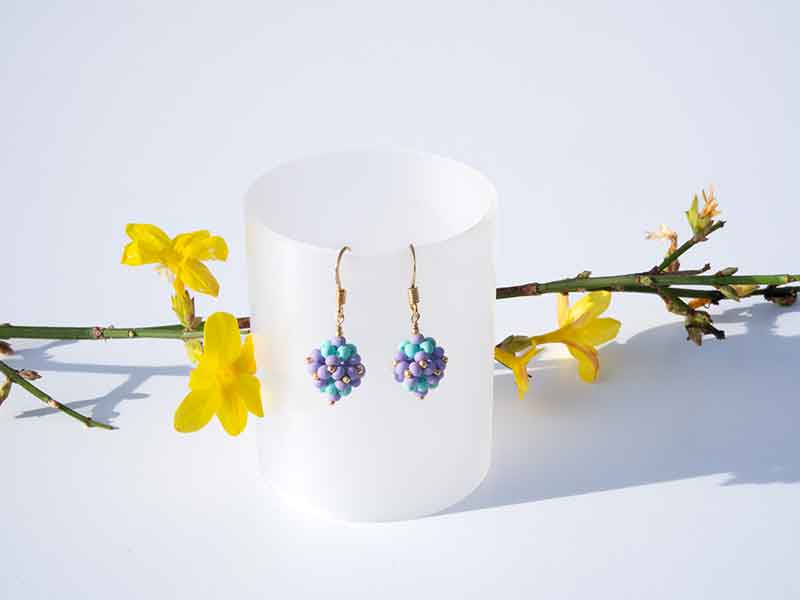 Get your kit on
Precision tools are essential when working with high-quality components! If you're in the market for new chain nose pliers, round nose pliers or side cutters, you can find them all here.
Wear and share
And as always, do share photos of your creations on Facebook. We love to see what you make!
Kate, Jonathan and all the team at Boundless Beads.
About Boundless Beads
Established in 1992, we are a UK-based, family-run business. We supply exquisite artisan beads and beautifully hand-crafted jewellery elements to the hobbyist market and to wholesale partners up and down the country.
We are privileged to work closely with some of the industry's best glassworkers and bead-makers, many of whom hail from the world-renowned Bohemian dynasties of the Czech Republic. Many of the beads we sell are entirely unique to our collections and can be found nowhere else in the marketplace. Please visit us at boundlessbeads.com