When it comes to hand-crafted jewellery there isn't much that can top a beautiful Czech glass beaded bracelet… well, other than a stack of them, that is.
Not only will our latest design combination leave you with a stack of glowing, shimmering bracelets, it also doubles as a technique tutorial perfect for beginner jewelery making. So, if you're keen to work on your beading skills while acquiring some eye-catching new arm candy, this stack is for you.
Top of the class
The component kits for the three bracelets come with comprehensive instructions that serve to teach, and reinforce, some brilliant beading techniques.
The designs of the Essence, Love and Contour bracelets are a masterclass in colour and construction technique, as well as the use of threading materials, beading materials and findings.
Our component kits contain all the components and threading materials you'll need, a set of PDF downloadable instructions and a link to the video. So simply choose your favourite colorway then add the corresponding gold or silver component kit to your shopping basket.
Knocked for six
There are six glorious colorways to choose from with these layered designs, four using gold metallic finish and two using silver.
There's the tranquil turquoise of Lagoon, glowing pinks of Misty Rose, warm tropical vibes of Golden Amber, soft glow of Pink Lemonade, striking contrasts of Silver Pink or sophisticated lustre of Sweet Lavender.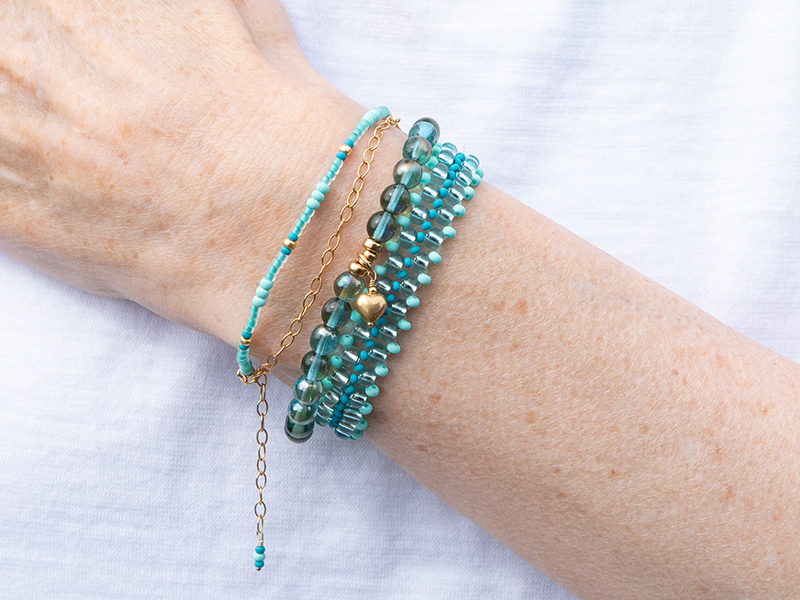 As easy as one, two, three
The three complementary bracelet designs we've chosen for this bracelet stack are Love, Essence and Contour.
Love is a pretty charm bracelet featuring unique, fashion-inspired colours with a glass gold or silver heart charm as the twinkling star of the show. Essence is a simple string of seed beads running alongside a gold or silver chain, while Contour deploys some clever threading techniques to create an intricately woven band.
The Golden Amber colourway features a classic seed bead colour element and glowing topaz coloured glass with a copper lining, creating a luminous combination with PermaLux beads.
The other five colourways, meanwhile, star the head-turning colour coatings of PermaLux and Solgel Preciosa seed beads. These beautiful artisan beads, crafted in Bohemia using traditional methods, are not only irresistible but tough too – tough, colourfast, washable and wear-resistant.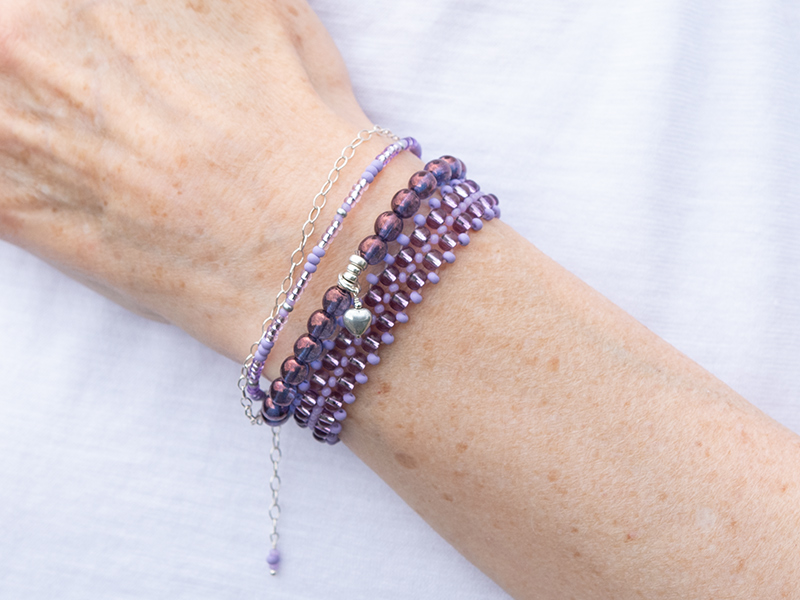 Get your kit on
Precision tools are essential when working with high-quality components! If you're in the market for new chain nose pliers, round nose pliers or side cutters, you can find them all here.
Wear and share
And as always, do share photos of your creations on Facebook. We love to see what you make!
Kate, Jonathan and all the team at Boundless Beads.
About Boundless Beads
Established in 1992, we are a UK-based, family-run business. We supply exquisite artisan beads and beautifully hand-crafted jewellery elements to the hobbyist market and to wholesale partners up and down the country.
We are privileged to work closely with some of the industry's best glassworkers and bead-makers, many of whom hail from the world-renowned Bohemian dynasties of the Czech Republic. Many of the beads we sell are entirely unique to our collections and can be found nowhere else in the marketplace. Please visit us at boundlessbeads.com