You've heard about the climate crisis right? And our plastic-swamped oceans? This Christmas, give the best present you can to our planet (and your tree) and ditch glittery plastic bling in favour of some magical eco-friendly woollen baubles and glass bead twisticles >>
Shocks away
In the UK, we throw away 30% more than normal during the festive period, and send 100 million bags of rubbish to landfill. Shocking right? Not to mention the 277,000 miles of wrapping paper we bin; much of it plastic-based. That's enough to stretch all the way to the moon! 'No more' we cry! This December, pledge with us not to buy any more plastic-fantastic bling, and instead, step back in time and have a go at crafting some beautiful, eco-friendly, Christmas decorations.
Twist and shout
First up, what's not to love about these tiny icicles of beaded perfection? Spun into a glittering double helix, our light-catching (and eye-catching!) glass twisticles are dead easy to make, and will have your Christmas tree shimmering and shuddering with joy.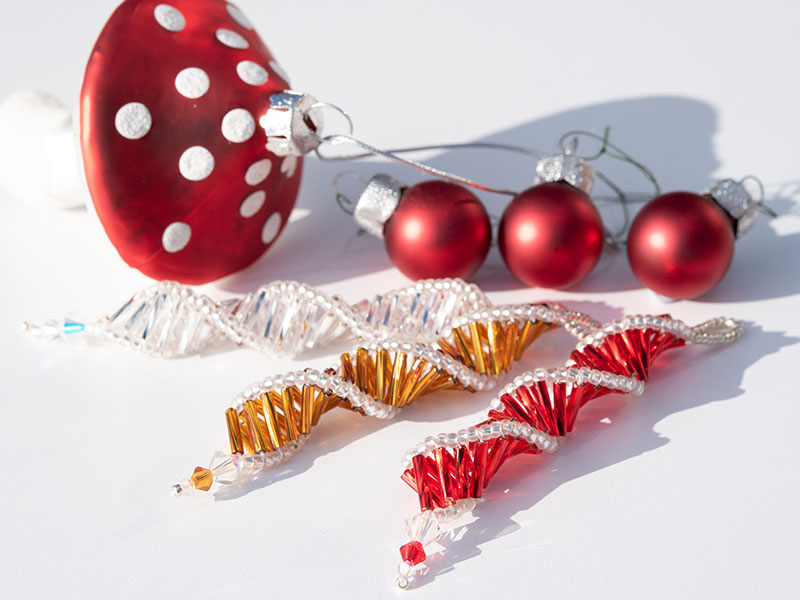 Made from Preciosa Ornela 9mm bugle beads, our twisticles come in a veritable sea of festive hues, so that you can choose a colour-scheme to suit your home. Download our free PDF instructions and get crafting right away.
Full twisticle kits, with free instructions including all the beads, materials and needles you'll need are available on our website for just £4.10 (inc. VAT). Oh, and if you're one of the first 25 customers who spend £30 on our website from today, you'll receive a FREE twisticle kit (it's our little Christmas gift to you!).
Simply enter the word TWISTICKLE in the comments box at checkout to receive your complimentary twistickle gift.
A good ol' yarn
But we're not asking you to go completely bauble free this Christmas; far from it. In fact, we've got the perfect project up our sleeve for the knitting fans amongst you.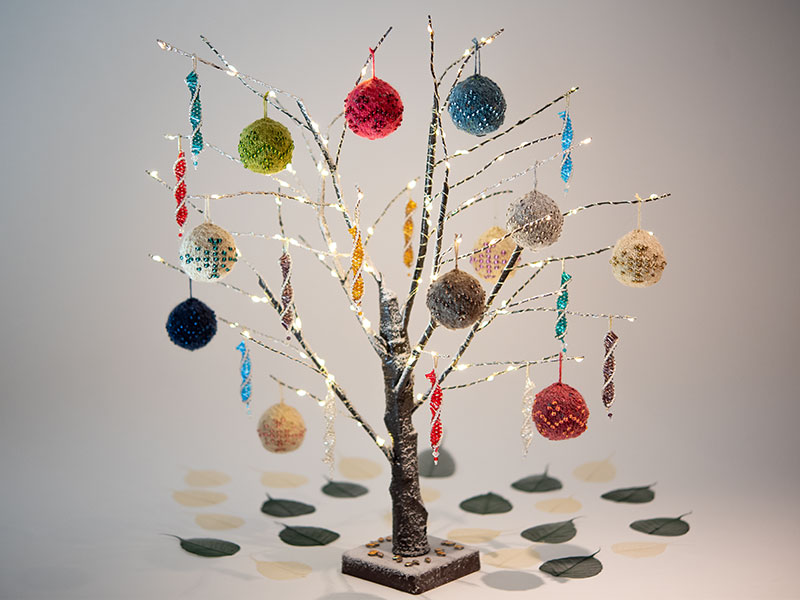 We fell in love with these soft and cosy bubbles of joy, made entirely from recycled wool (why not give those holy old cardigans and sweaters a whole new lease of life?). Not only are they super friendly for the environment, they'll also bring a warm air of hygge contentment and simplicity to your home.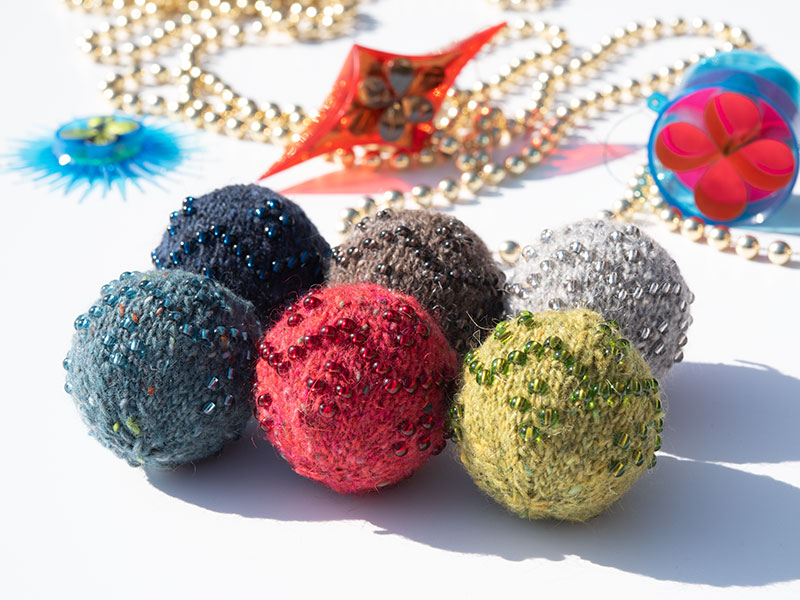 Created using this free pattern from Ralvery,, we've incorporated our trademark beaded (Preciosa Ornela seed beads) sparkle to the pattern (of course!). If you'd like to do the same, and we highly recommend you do, this grid pattern bead plan should help. We're reliably informed by our resident knitter that you'll need magic loop or double headed needles, and that the beads should be incorporated into the 15 straight rows of the pattern!
Say it with beads
And, just before we go, don't forget you need to think about what goes under the tree as well as what goes on it.
We're not very good at the hard sell, but what about a special piece of beaded jewellery or drop earrings? Or, for the crafters in your family, how about their first jewellery kit? Top of our list is this decadent lacy necklace in these pomegranate colours (pictured below) – you can buy the full kit for just £40.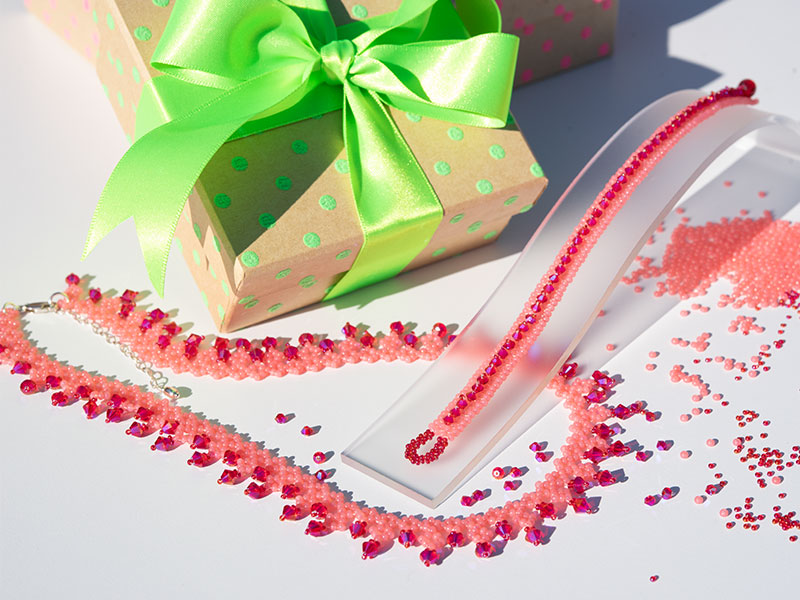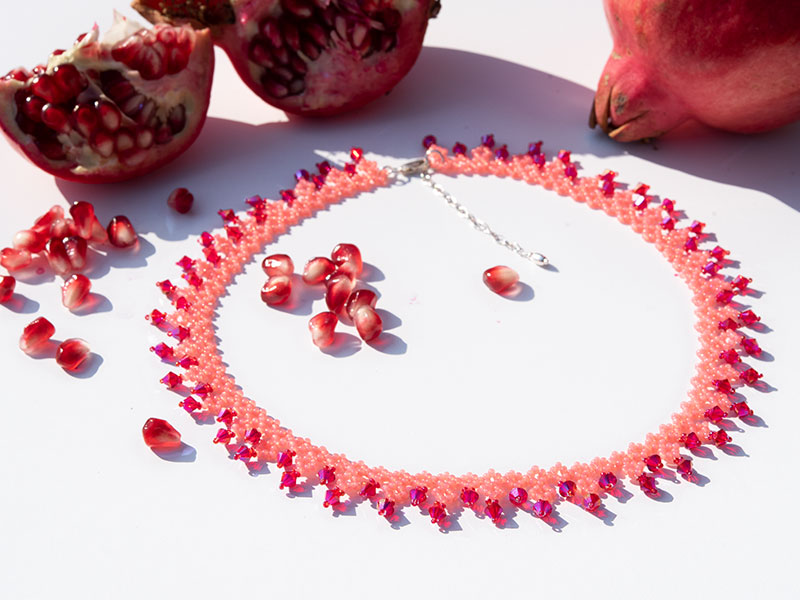 Alternatively, how about one of our on-trend tennis bracelets? We've just launched them in a new range of Preciosa Ornela pastel shades including lavender, rose and blue radiance. They're lovely statement pieces and this new design incorporates Swarovski's very latest Crystal Shimmer2 Effect beads (and we just happen to have the largest collection of colours of them in the UK!).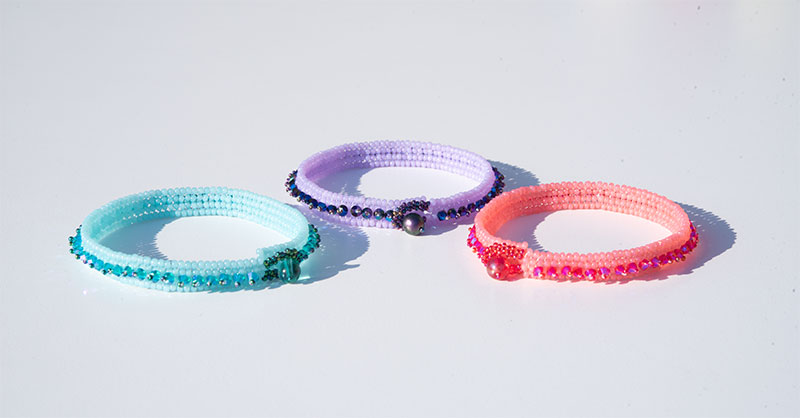 It's a wrap
Finally, when it comes to wrapping your gifts, how about ditching commercial wrap and using brown paper and colourful ribbons instead? It'll save you a fortune, look super-stylish, and best of all, you'll be giving a little extra Christmas hug to the planet.
Happy festive beading!
Love,
Kate, Jonathan and team.
About Boundless Beads
Established in 1992, we are a UK-based, family-run business. We supply exquisite artisan beads and beautifully hand-crafted jewellery elements to the hobbyist market and to wholesale partners up and down the country.
We are privileged to work closely with some of the industry's best glassworkers and bead-makers, many of whom hail from the world-renowned Bohemian dynasties of the Czech Republic. Many of the beads we sell are entirely unique to our collections and can be found nowhere else in the marketplace. Please visit us at www.boundlessbeads.com