Long, lazy evenings with candy floss skies, chilled rosé, juicy strawberries and daisies streaked pink by the sun… OK, let's be honest, this may not be the most accurate description of summer 2021 here in the UK, but the mellow pinks of summer can still help us see life through rose-tinted spectacles.
Which is why now feels like the perfect time to introduce a beautiful, twinkling bead to our collection: the Czech Crystal Rosa Radiance2 4mm bicone. A delicate pink, fully coated to create a sunset coloration, the Rosa Radiance will bring a subtle but alluring pink champagne sparkle to your designs.
All of the colour, more of the sparkle
Rosa Radiance2 is Czech crystal, renowned as the best of its kind. It's manufactured in the Jerra Mountains of Bohemia which has a 300 year history of crystal cutting and craftmanship.
The unrivalled skill and heritage of Czech crystal manufacturers is one of the reasons we're incorporating more of these irresistible beads in our carefully-considered line-up. The Radiance coating that gives the Czech bicones their sparkle is an industry gold standard, ensuring the beads don't lose the original base colour while enhancing the sparkle.
Rosa Radiance will also be joined by Bohemica Bicone Zircon Radiance2 4mm, a fully coated teal bicone that reminds us of sparkling turquoise seas (even when we're packing our wellies for a British staycation).
Weave in a little magic
Keen to get cracking with the Rosa Radiance? We've put together a Pink Lotus Lariat design and tutorial incorporating Czech glass table cut beads of the most delicate pink shade, Preciosa Ornela seed beads and beautiful 6mm druk beads, with the added sparkle of the Czech crystal beads completing the finishing touch.
Find the instructions here and watch the video here. It's also on our YouTube channel with loads of other tutorials to get you inspired!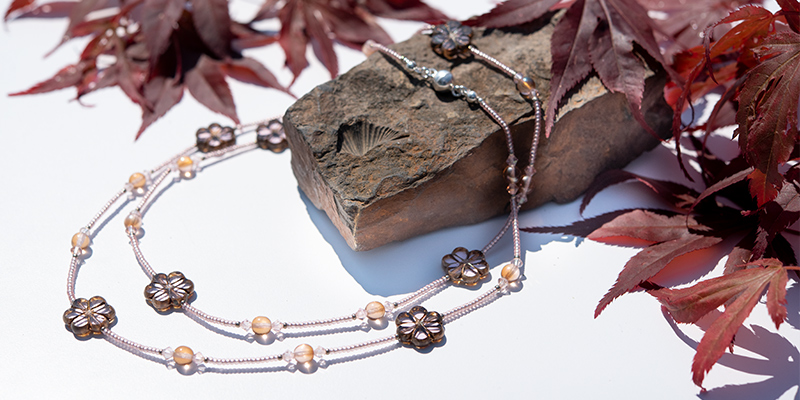 Colorways
You can find Rosa Radiance2 4mm along with other beautiful Czech seed beads, druk beads and bicone beads in our Colourways bundles; The Pink Lotus Lariat incorporates the Rosa Radiance.
Find the full list of everything required for the design here List of items required, including all the beads in the colourway as well as additional items. We're recommending the 0.7mm white Griffin bead chord number 6 (it's nylon so strong, non-stretchy, looks great, hangs beautifully and wears well!), one 6 piece pack of the .925 sterling silver Calote Crimp and the brilliant 8mm Magnetic Catch that's been revolutionising our designs lately!
You can print out a PDF of the instructions here PDF of diagram instructions
If you'd like to get to know some our other Czech beads, give the Hawaiian Lariat Necklace Bead Colorway and the Orange Sun Lariat Necklace Bead Colorway a whirl!
Please share your finished designs with us, either on email [email protected] or social media @boundlessbeads, we'd love to see them!
Limitless possibilities
We've put together colour combinations we love with the colorways but the possibilities are as limitless as your imagination! If you'd like some help adapting our designs to incorporate different colours or bead, to match a favourite outfit or create a bespoke gift, get in touch and we'll send a full list of beads to suit you.
We can't wait to see what you create!
Kate, Jonathan and all the team at Boundless Beads.
About Boundless Beads
Established in 1992, we are a UK-based, family-run business. We supply exquisite artisan beads and beautifully hand-crafted jewellery elements to the hobbyist market and to wholesale partners up and down the country.
We are privileged to work closely with some of the industry's best glassworkers and bead-makers, many of whom hail from the world-renowned Bohemian dynasties of the Czech Republic. Many of the beads we sell are entirely unique to our collections and can be found nowhere else in the marketplace. Please visit us at boundlessbeads.com