Did you know, dragonflies have been around for 300 million years which makes them older than dinosaurs, and one of the world's first living insects! Pretty special huh? We certainly think so, and – as lovers of the natural world - we've turned to these ageless, shimmering beauties for inspiration for our latest pendant kits.
Ayes to the right (and left).
Before we go on, here are three fascinating facts about dragonflies we just had to share:
1. Their massive globular eyes are incredible, wrapping around their heads and including up to 30,000 tiny lenses which allow them to see in all directions at once. Think you're hiding? Nope, he's watching you over there. And you over there!
2. Like all insects, dragonflies have six legs. But they can't walk. Handy then that their four independently-controlled wings make them one of the most agile and successful aerial predators on the planet. Hovering, darting, looping, even reversing – they've got it covered!
3. As humans, we have proteins in our eyes (opsins) which are sensitive to green, red and blue light. This allows us to see from red to violet on the colour spectrum. But dragonflies have between 15 and 33 opsins, so can see UV and polarized light as well as, well, who knows how many other colours! Just imagine the design possibilities if dragonflies were at the helm.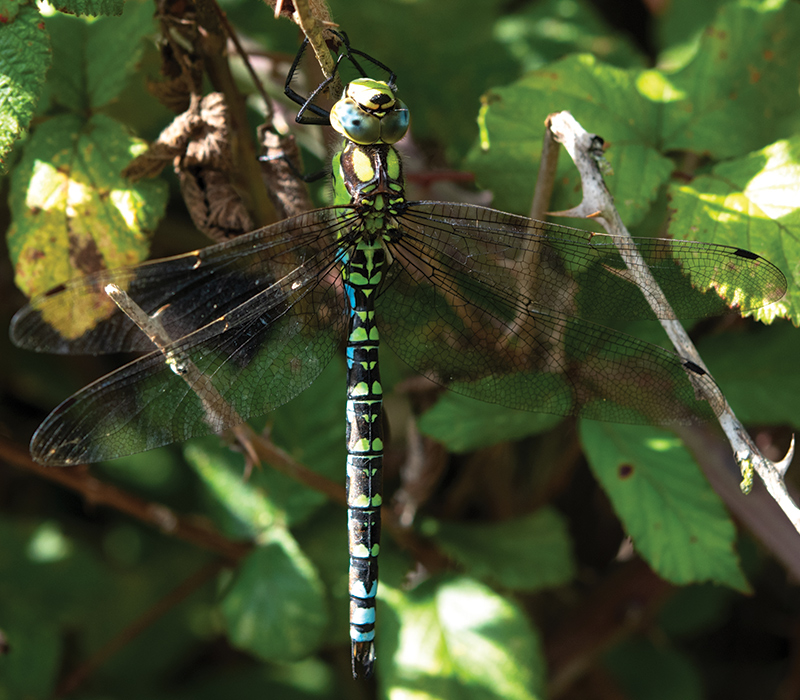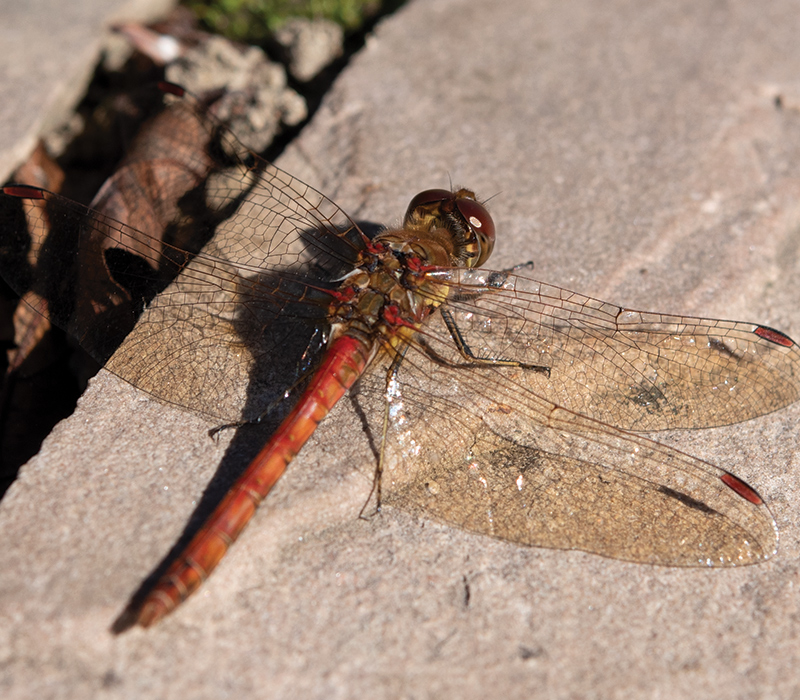 Flight of fancy
Before we get too carried away, back to the task in hand of introducing our fabulous dragonfly necklace kits, complete with gorgeous accompanying floral earrings which make heroes of our Czech glass mini dagger beads. Don't worry, you won't need 360° vision or the ability to walk on water to create them, as both kits are categorised at 'confident beginner' level.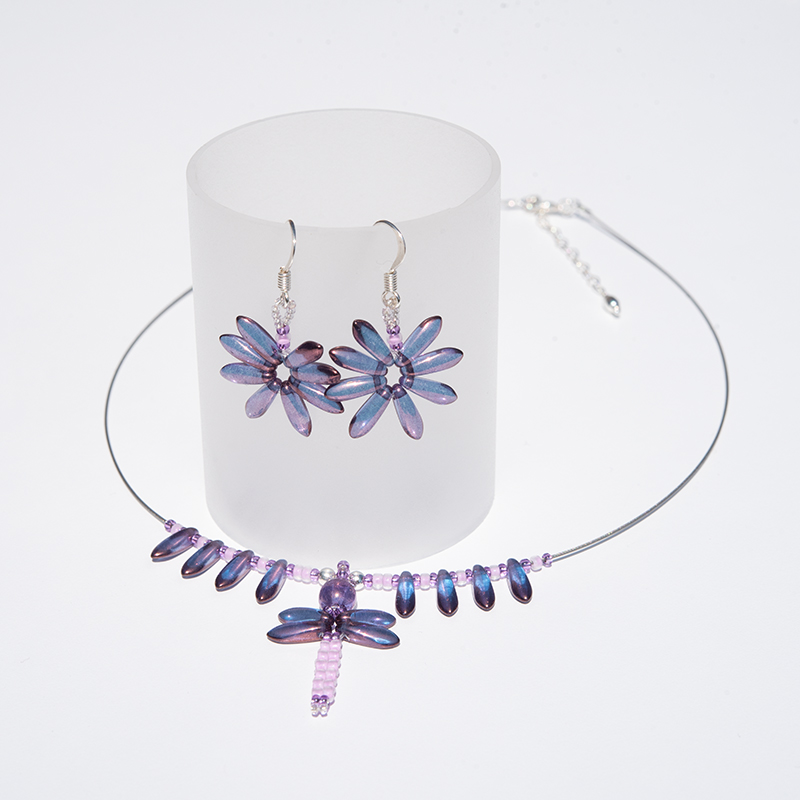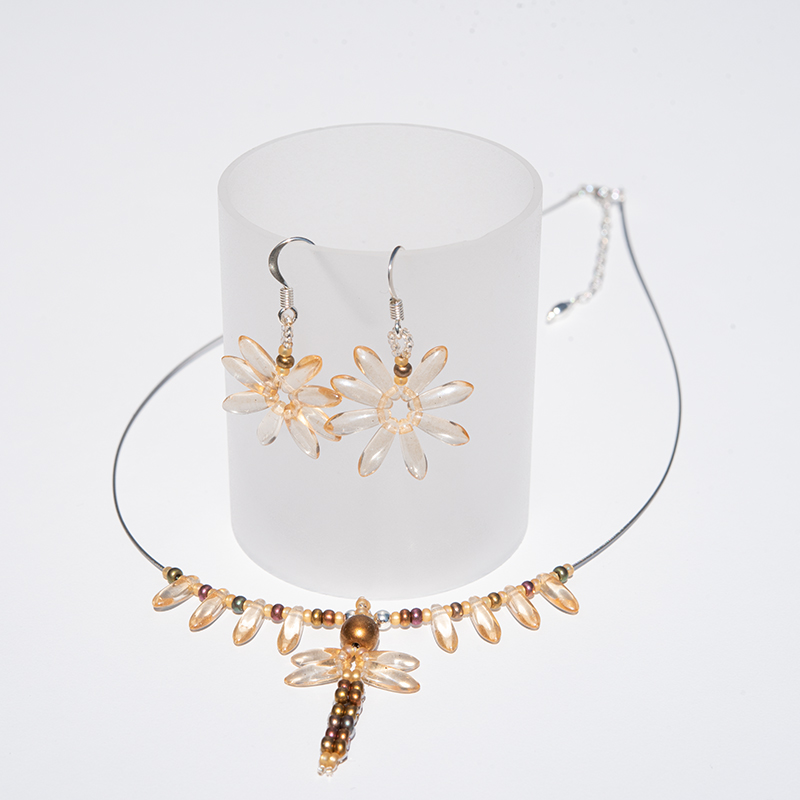 To set you on your way, we've put together five stylish colorway kits which contain all the glass beads you'll need to create your necklace. Kits are priced from £13.00.
>> Sugar Coral >> Sweet Lavender >> Sea Foam >> Golden Shadow >> Crystal Blue.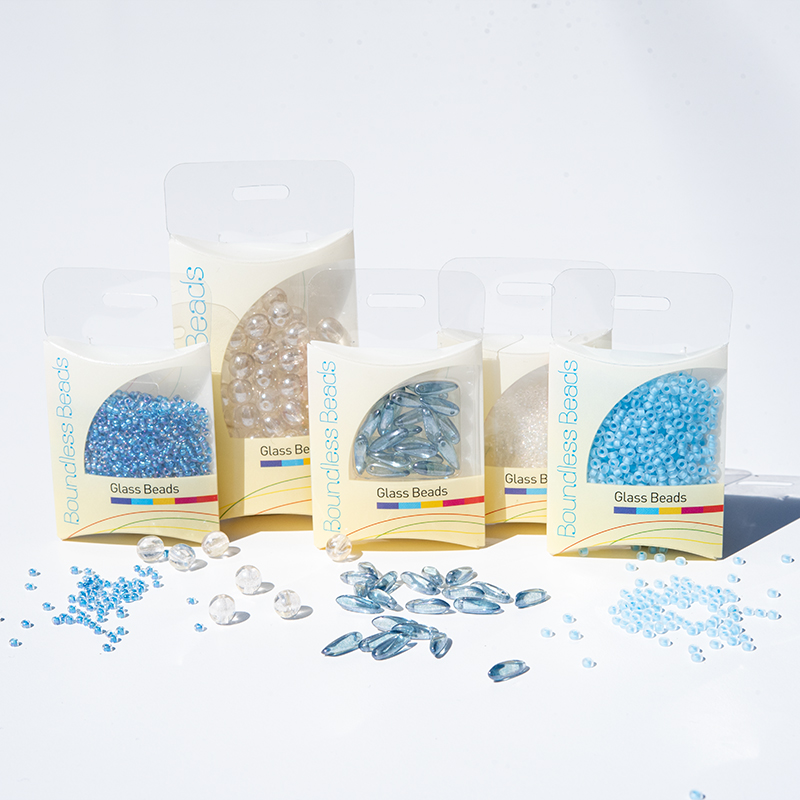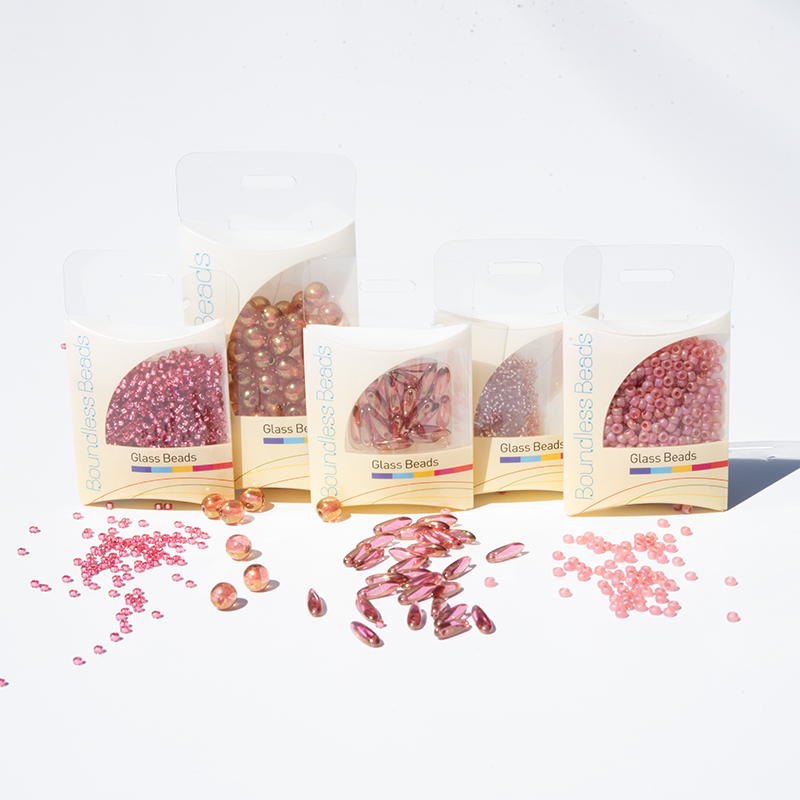 On your marks, get thready…
In addition to your beads, don't forget you'll need threading materials, for which we'd recommend Griffin 0.60mm wire. Or, a more cost-effective option which also includes all the sterling silver fixings and fastenings you'll need, would be: 0.6mm Necklace Cable Kit with Sterling Silver Components.
Finally, if you have your own colour scheme in mind, here's a full shopping list, for all you'll need to create your own delicate dragonfly pendent necklace and matching floral earrings.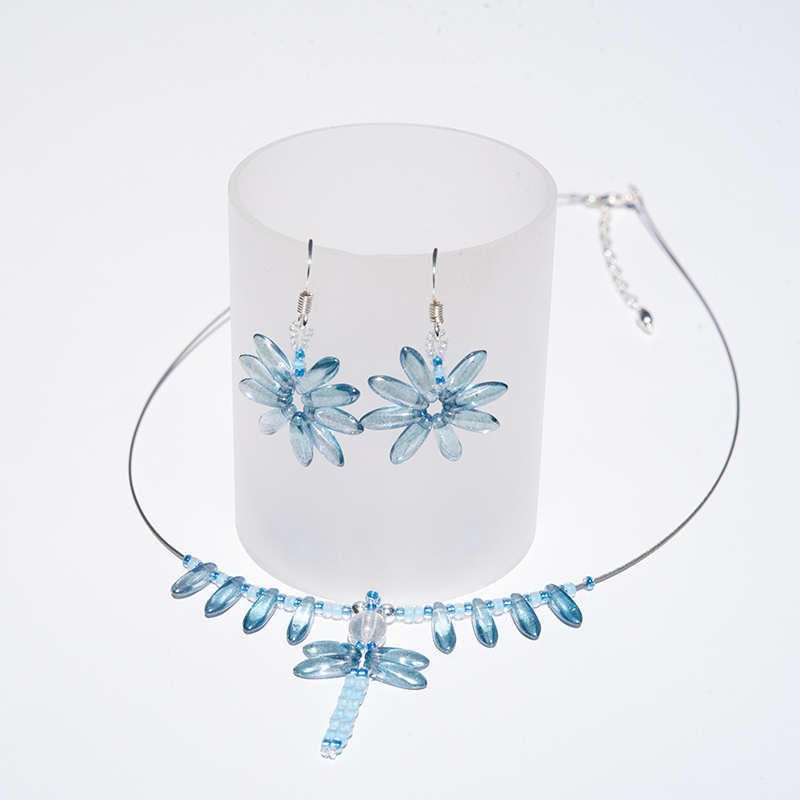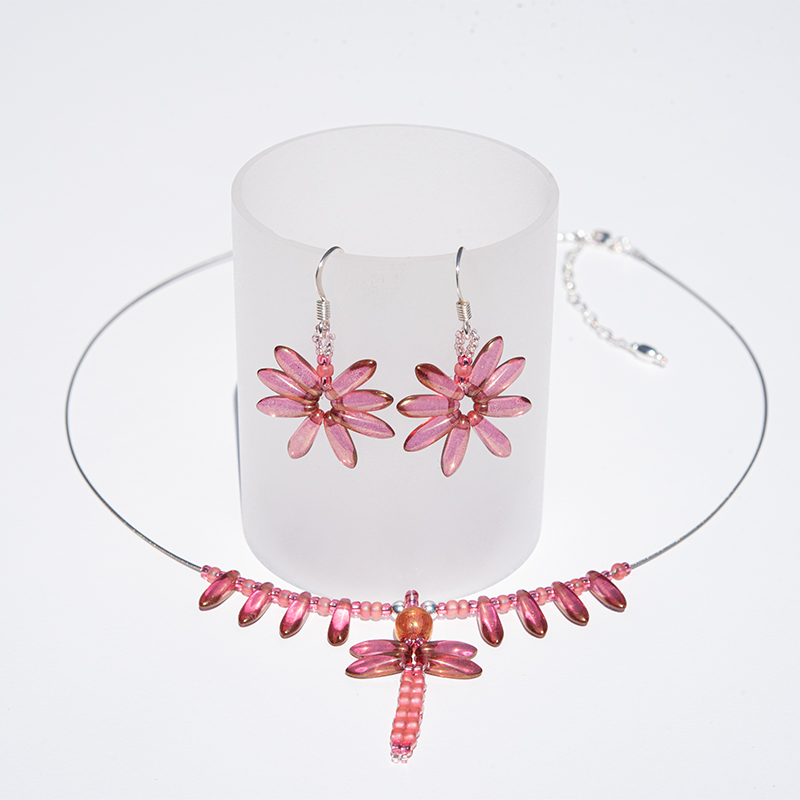 Don't wing it!
When you're ready - beads in hand - itching to get going, the lovely Kate has created another of her super-easy video tutorials to walk you through the whole process. Be sure to download our FREE step-by-step instructions too so you can work at your own pace and return to the projects again in the future (it's too early to mention the 'C' word, but it's always good to have a few early gifts ideas in mind!).
>> Dragonfly pendent instructions
>> Flower earrings instructions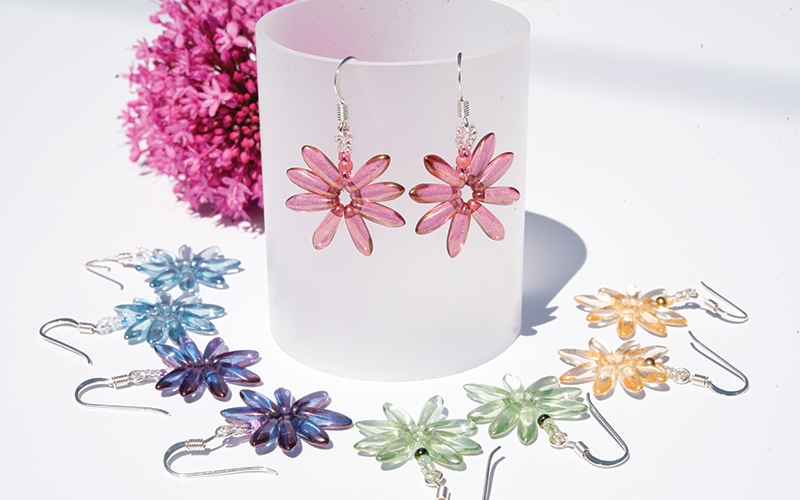 As ever, we love to hear how you get on, so please email us pics of your finished designs [email protected] or tag us in your social media posts @Boundlessbeads. And, if there's a jewellery project you'd like our help with, we're all ears.
Happy beading!
Kate, Jonathan and all the team at Boundless Beads.
About Boundless Beads
Established in 1992, we are a UK-based, family-run business. We supply exquisite artisan beads and beautifully hand-crafted jewellery elements to the hobbyist market and to wholesale partners up and down the country.
We are privileged to work closely with some of the industry's best glassworkers and bead-makers, many of whom hail from the world-renowned Bohemian dynasties of the Czech Republic. Many of the beads we sell are entirely unique to our collections and can be found nowhere else in the marketplace. Please visit us at boundlessbeads.com