We explore the history of one of our favourite and most versatile beads, the Presiosa Ornela seed bead, and introduce you to a dramatic spiral seed bead necklace suitable for every level of jewellery designer.
Humble beginnings
Our relationship with jewellery dates back many thousands of years. Indeed, the discovery in 2013 of 130,000-year-old Neanderthal eagle talons adorned with deliberate cuts and notches led archaeologists to believe that they had discovered the world's oldest known jewellery.
Bring on the bling
As the human species evolved, so too did the sophistication of the accompanying jewellery. Sculpted bones gave way to highly polished and skilfully-worked precious metals and stones which were worn to indicate status, prestige and social eminence.
Glass beads
It wasn't until 5,000 years ago (relatively recently in Neanderthal terms!) that glass made its way into the jewellery lexicon, initially as Egyptian faience beads which were made from clay and encrusted in a thin glass-type coating . These were followed, 1,500 years later, by more complex mosaic or 'millefiori' beads from Mesopotamia. Then, along came the Romans who created sophisticated kilns and learned to produce liquid glass.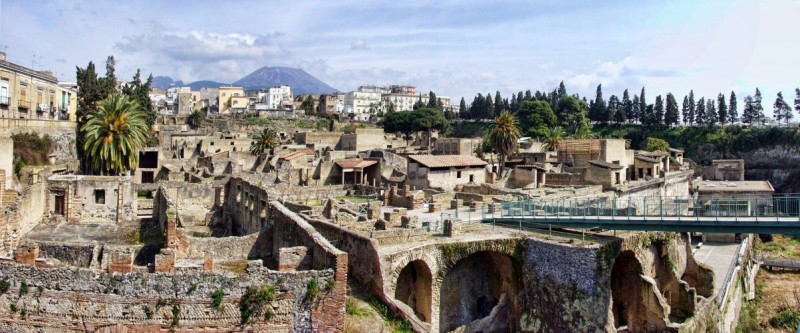 This was when the glass beads we know today became commonplace in jewellery design (to learn more, visit our earlier article 'The History of Beads').
The great pretenders
It is thought that these early glass beads - which were widely traded throughout the Roman Empire - were an attempt to emulate precious ores and minerals in order to make colourful jewellery more accessible to 'ordinary folk'. In essence, this is still the case today, although the glass-working skills involved in creating many of the more complex and unusual artisan beads available in today's marketplace are an art-form in their own right.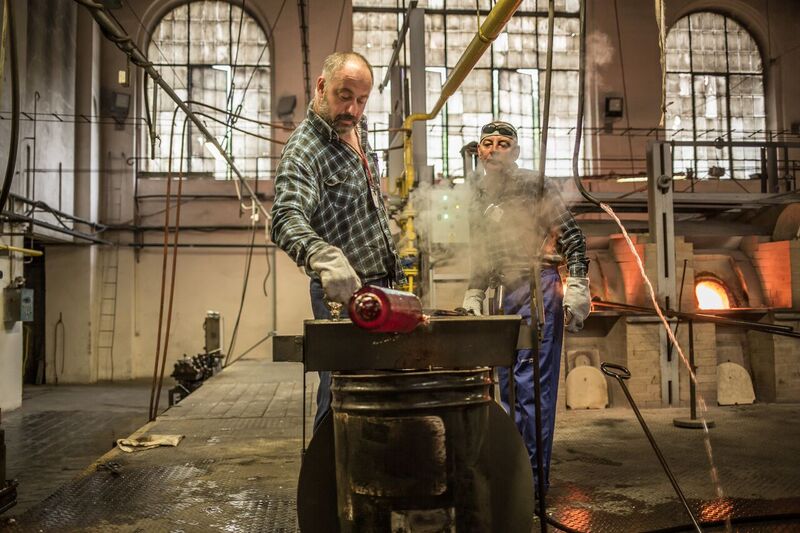 Czech bead maker with molten glass billet - in production
Bohemian rhapsody
In many ways, today's glass seed beads are similar to the glass beads which were so readily traded in the Roman Empire; beautiful, colourful, tactile nuggets of individuality, and yet, ultimately, inexpensive and readily available when compared to their precious metal and gemstone counterparts. However, as we have learnt during our 25 year journey in the bead business, not all seed beads are equal, and it really pays - just as it would have done in Roman times - to use beads in your jewellery which have been produced by experienced, high-quality bead-makers.
Cheaper seed beads and mass-produced imitations lack uniformity, lustre and finesse; poor-quality traits which will be passed on to your finished jewellery. This is why, in our opinion, traditional Czech glass seed beads (which have been manufactured by the world-famous Bohemian glassmaking dynasties since the 16th century) are unsurpassed. Genuine Czech beads may be more expensive than their mass-market counterparts, but you are paying for superiority and consistency which will reflect in the quality of your finished piece.
Enter Presiosa Ornela
For many years, our favourite traditional Czech glass seed bead maker has been Preciosa Ornela.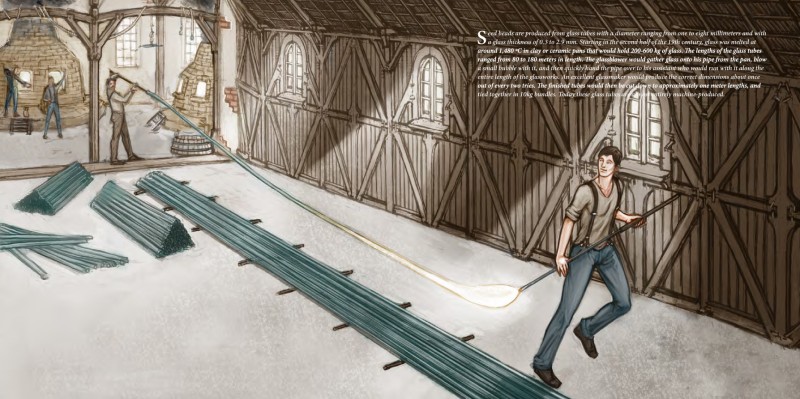 Author MgA. Dominik Strnad – from the book The Magical World of Czech Beads
Preciosa Ornela grew from humble beginnings in 1870. At this time, their traditional beads were produced by artisan glassworkers who drew their rods of glass by hand in much the same way as the early Roman craftsmen would have done, using only their eye and expertise to judge uniformity and colour.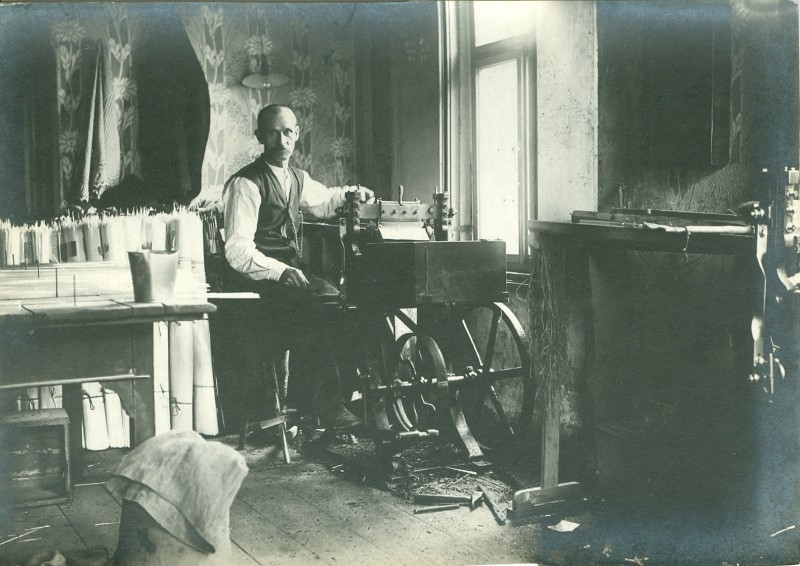 Czech bead maker with machine for cutting hollow rods into beads
Plus ça change
While technology has taken much of the guesswork out of bead production (the drawing and sizing of rods is now controlled by computers and lasers), the artistry, creativity and attention to detail with which Preciosa Ornela beads are produced remains the same. We love these tradition-steeped Preciosa beads and the fact that they are still produced in-house to the same exacting standards which means they are considered to be the world's best in terms of consistent size, uniformity and quality.
A rainbow of possibility
In addition, Preciosa Ornela seed beads are unique in shape (being torus or symmetrical doughnut shaped), which we think gives jewellery a more organic, rounded fluidity than, more angular seed beads. Not only that, but Presiosa produce their beads in a more extensive range of colours and sizes than any other bead-maker we know.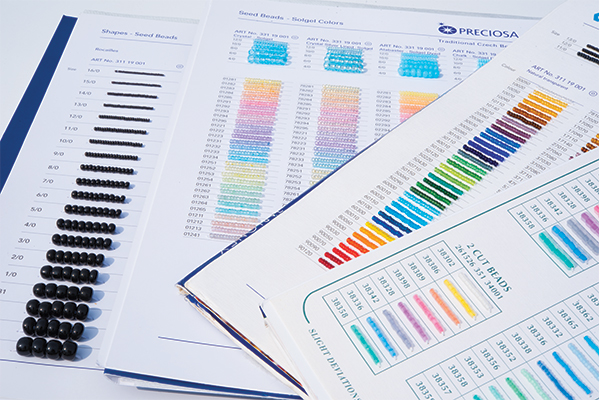 Preciosa Ornela size card a and small selection of their colour cards from their vast collection
It's your turn to fall in love!
We've told you why we love these fabulous little traditional glass gems (and we're not being paid to say this); now it's your turn to fall for them! What better way than to immerse yourself in one of our fabulous seed bead jewellery-making workshops: The Spiral Rope Necklace.

You might think that these gorgeous, chunky statement pieces look complicated, but please don't let that put you off if you are a beginner. We promise they are actually a lot simpler to make than they look, and require you to master only two simple stitches. What's more, the only accessories you will need to complete this twisted spiral project (other than your beads) will be a needle and beading thread, and a finishing clasp.
You set the tone
As with all our masterclass projects, this eye-catching design can be created in a range of colourways to reflect your mood and individual style. This is why we love Preciosa seed beads so much; their range is so diverse that, no matter what look you are wanting to achieve - from sophisticated eveningwear to playful summertime fun - there will be a colour and style combination to suit.
Take a look at the fabulous colourways below to decide which you like best, then click on your favourite to add the relevant beads to your basket. If you are a newsletter subscriber, don't forget to add your seed bead promotional code at the checkout to receive your discount.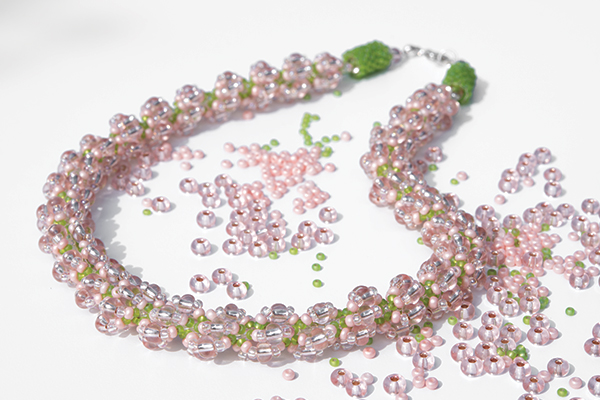 Ice pink (complete Kit) – Subtly muted tones and delicate discretion.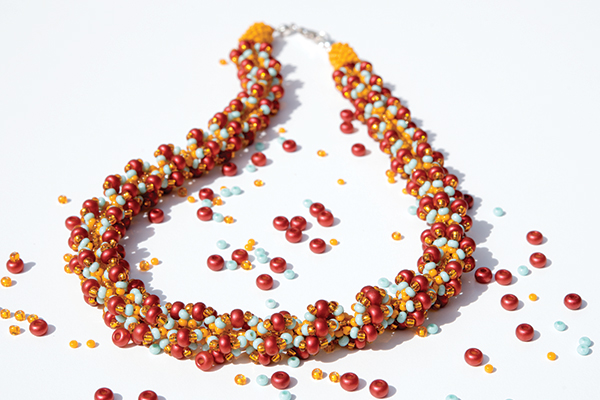 Sunburnt orange – Flamboyant confidence with fiery autumnal hues.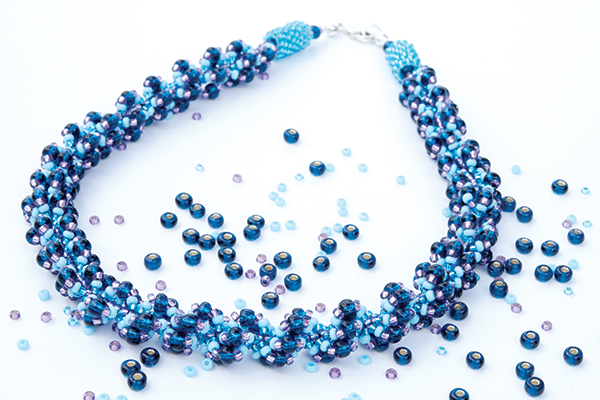 Blue Aqua Violet – Calming, sophisticated and harmonious.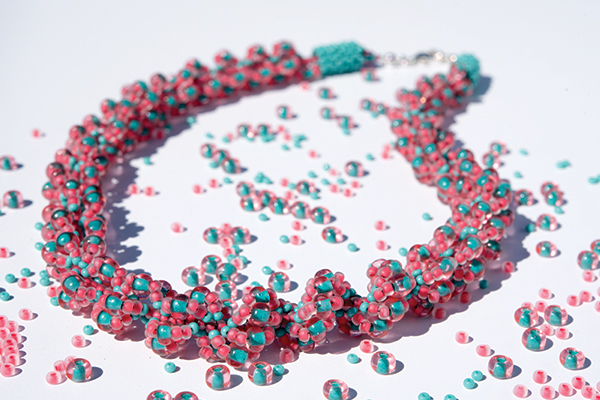 Atlantis Rose and Turquoise – Playful, decadent and spirited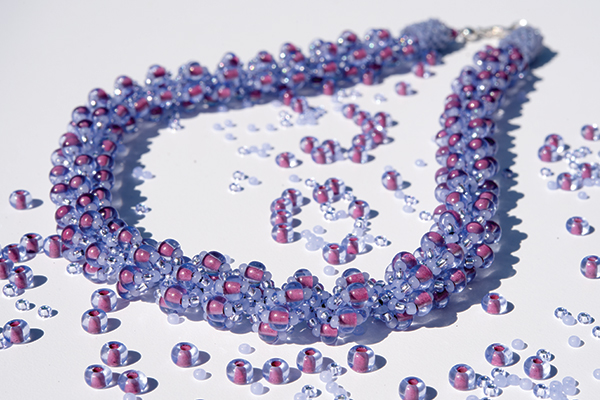 Violet Mulberry – Sharp, urbane and refined.
You can purchase instructions only here: Spiral Rope Necklace
Our accompanying Masterclass Video will talk you through the project.
And finally...
Don't fancy any of our designs? Why not create your own version of our Spiral Rope Necklace using bead colours of your choice. Send us your ideas, and, if we upload your chosen colourway to our Facebook page, we'll send you a little 'thank you' in return!
Happy beading - we can't wait to hear how you get on!
About Boundless Beads
Established in 1992, we are a UK-based, family-run business. We supply exquisite artisan beads and beautiful hand-crafted jewellery elements to the hobbyist market and wholesale partners throughout the UK (and globally). We are privileged to work closely with some of the industry's best glassworkers and bead-makers, many of whom hail from the world-renowned Bohemian dynasties of the Czech Republic. Many of the beads we sell are unique to our collections and can be found nowhere else in the marketplace.