Yves Saint Laurent once said; "Fashion fades, style is eternal"
The world famous 'Bowes Museum', recently hosted an exhibition, in which they present a comprehensive display of the French fashion designer 'Yves Saint Laurent's' work and life in Couture.
The YSL show highlights the defining elements of his vision, and the significant influence it has had on fashion and the way we understand womenswear.
"Fashion fades, style is eternal". Articulating this idea, the exhibition presented fifty garments including some iconic pieces from the Russian Collection, the Mondrian dresses and the Tuxedo, amongst others.
We were completely taken aback by his creative and stylish use of glass Seed Beads.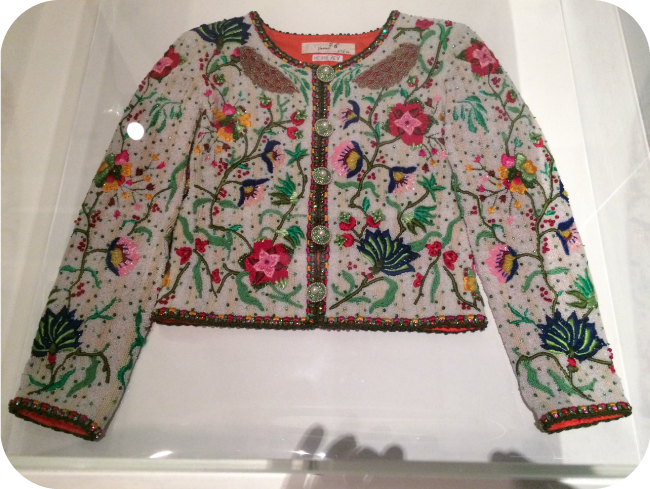 Embroidered Evening Jacket.
Spring-Summer 1991 haute couture collection.
White silk organza embroidered with a motif of multicoloured flowers and foliage on a white background using seed beads and round beads.
Embroidery by Lesage.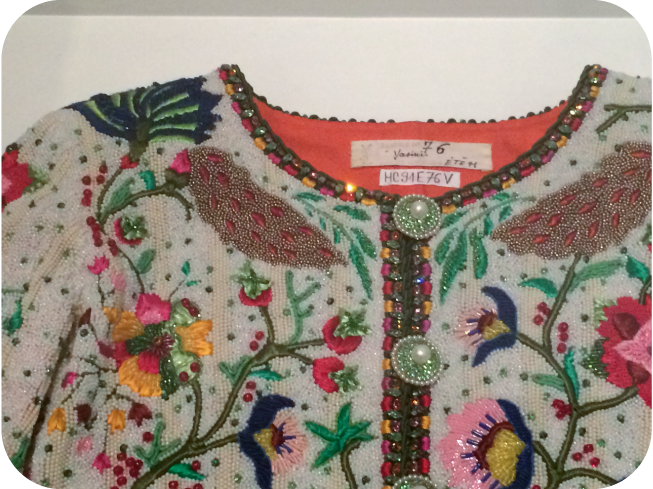 Yves Saint Laurent, worked for a short time under the guidance and tutelage of Christian Dior, whom appreciated the young fashion designers style. Following the death of Christian Dior in 1957, Yves Saint Laurent, became the youngest ever 'Couturier' at the age of twenty one, for the house of Dior.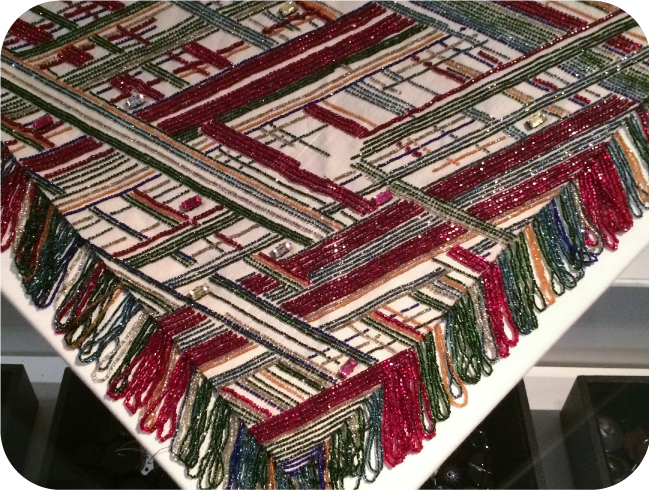 Embroidered Shawl.
Spring-Summer 1964 haute couture collection.
Beige raw silk taffeta embroidered with a red and green tartan pattern composed of seed beads and tubular beads; green raw silk taffeta reverse.
Embroidery by Rébé
In 1960 Yves Saint Laurent left Dior for compulsory military service, but was invalided out after a short time and spent much time in military hospitals being essentially sedated and experimented on with psychoactive drugs. When released from hospital he partnered with industrialist Pierre Bergé and between them the Yves Saint Laurent fashion house was founded, with its first catwalk show in 1962. For 40 years, Pierre Bergé managed the business while Yves Saint Laurent focused entirely on the creative side.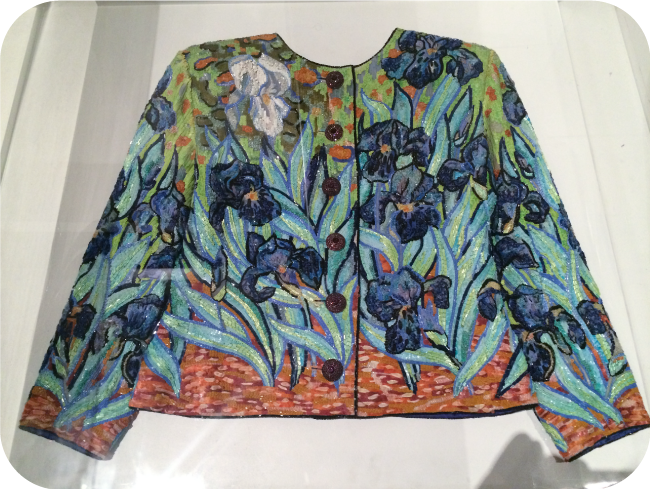 Embroidered Evening Jacket.
Homage to Vincent Van Gogh.
Autumn-Winter 1988 haute couture collection.
White silk organza embroidered with an iris motif compossed of sequins, bugle beads, seed beads and ribbons in shades of blue, purple, green and orange; jewelled buttons.
Embroidery by Lesage
More information about Lesage.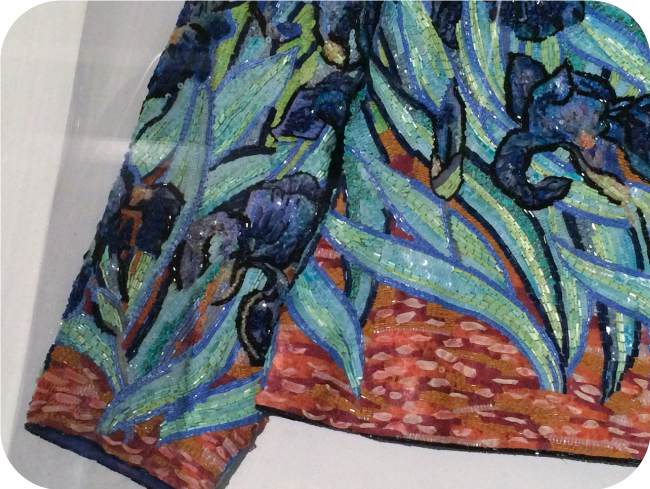 In the first twelve years, the designer defined a new style and composed the quintessential elements of the modern woman's wardrobe: the pea jacket and trench-coat in 1962; the first tuxedo in 1966; the safari jacket and the first trouser suit in 1967; the jumpsuit in 1968.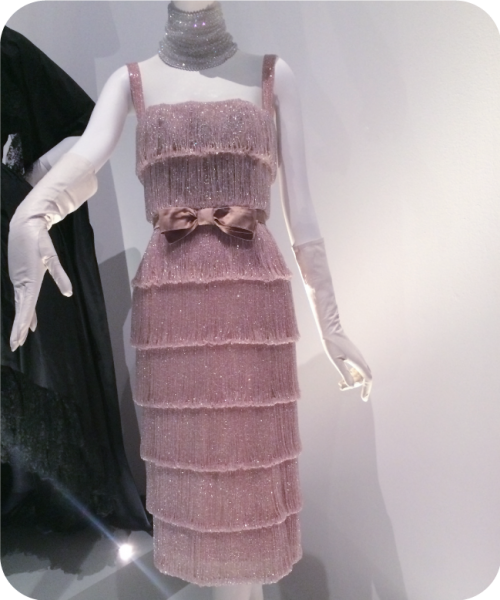 'Cascade' Short Evening Dress.
Autumn-Winter 1959 Yves Saint Laurent for Christian Dior haute couture collection.
Straight dress with pink sorbet-coloured tulle straps embroidered with iridescent pink sequins, covered in rows of fringe composed of pink seed beads for a cascading effect; pink silk satin belt adorned with a flat bow.
By making use of male dress codes, the designer brought women a sense of social empowerment whilst retaining their femininity, a sentiment emphasised by Pierre Bergé: "If Chanel gave women their freedom, it was Saint Laurent who empowered them." Yves Saint Laurent had the ambition to dress all women, not just exclusive haute couture clientele. In 1966, he opened the first ready-to-wear boutique to bear a couturier's name, SAINT LAURENT rive gauche, opening the way to fashion as we know it today. Passionate about the arts, and a collector himself, Yves Saint Laurent paid homage, as early as 1965, to various artists in his haute couture collections, with the famous Mondrian dresses, as well as his homage to Diaghilev and Picasso in 1979 and tributes to Matisse, Cocteau, Braque and Van Gogh in the 1980s, some of which are displayed at The Bowes Museum.
If you would like to visit the exhibition has been extended until the 8th of November 2015.