Tennis fans of a certain vintage will remember the famous incident at the 1987 US Open when Chris Evert's diamond eternity bracelet snapped mid-rally. Officials immediately paused the match in order to retrieve the star's signature piece of jewellery, and the term 'tennis bracelet' was coined.
An ace for the jewellery industry
A classic tennis bracelet was originally considered to be an elegant, in-line band of individually set diamonds, just as Evert's had been. Following the incident at Flushing Meadows, jewellers began to copy Evert's bracelet design and the simple but classic style gained huge popularity, not just with tennis fans, but with the fashion community at large.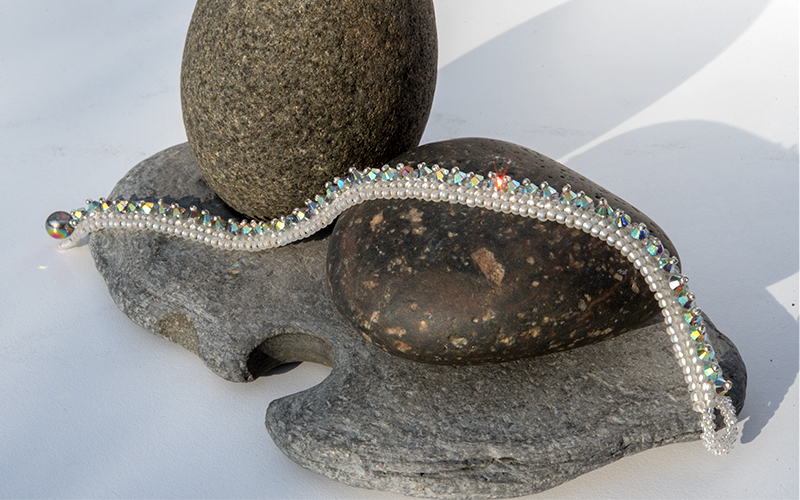 A jewellery smash hit
As the popularity of the tennis bracelet grew, so too did the spectrum of its design possibilities. Where once tennis bracelets had been crafted from diamonds and yellow gold, now jewellers were beginning to incorporate emeralds, rubies and sapphires and experiment with different settings of platinum, white gold and sterling silver. Thirty years later and things have moved on still further. Nowadays, any in-line bracelet with a repetitive design is considered to be a 'tennis bracelet'.
Your time to shine!
And this is where we – or more specifically, you – come in! We have always loved simplicity in our jewellery designs, and never more so than when we created our own range of beautiful tennis bracelets in which we use two striking, but very different beads; Preciosa seed beads for the woven herringbone band, and shimmering Swarovski crystal bicones for the feature beads.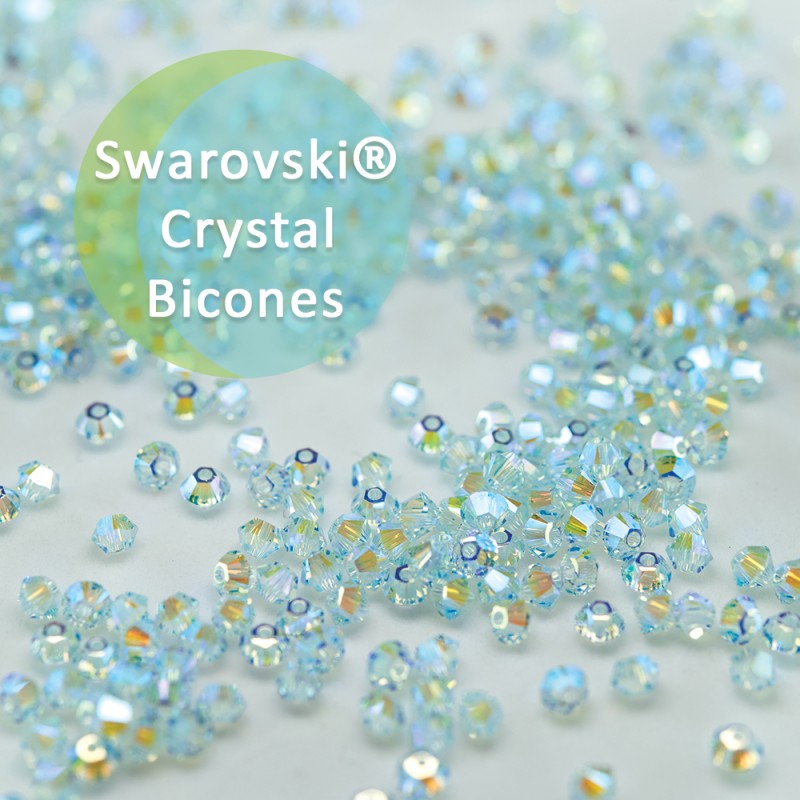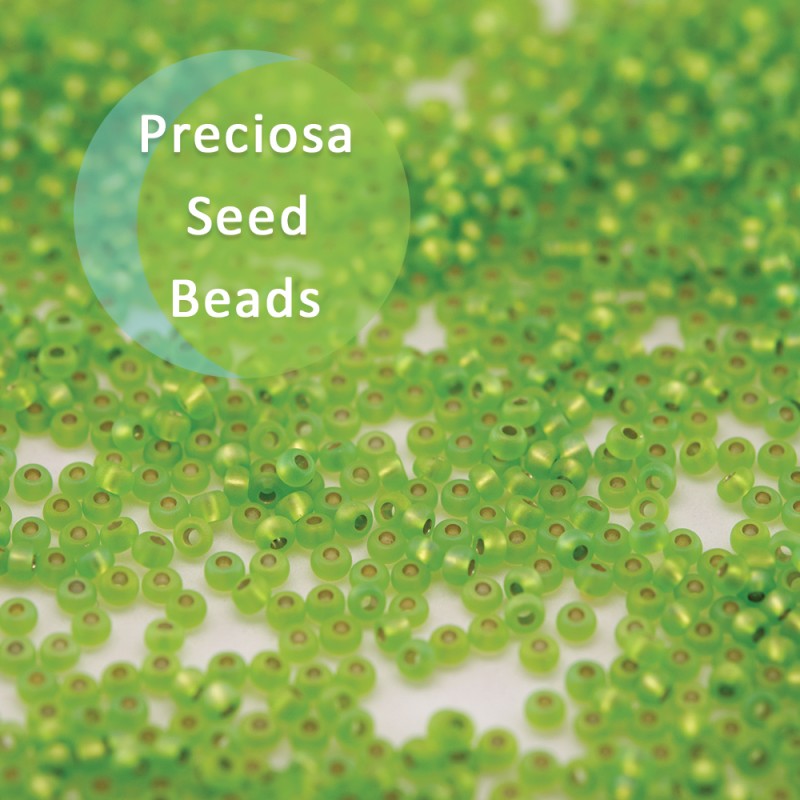 Small but perfectly formed
In addition, our tennis bracelets feature our delightfully tiny 15/0 charlotte seed beads. These special little beads include a single randomly-placed facet to catch the light and add a little extra twinkle to your work.

Did you know? Preciosa 15/0 charlotte seed beads are the smallest seed beads still manufactured today, with a diameter of approximately 1.4mm!
You will need:
- Our tennis bracelets are available in kit form in two distinct colour combinations: Blue Dawn or Paradise.
- Alternatively, you can purchase the instructions only, which include a full shopping list of all the beads and elements you will need to complete the project. The world is your oyster, and we really hope you have fun with your colour and bead choices if you take this option!
Skill level:
- Beginner / intermediate: The exciting thing about this project is that, whilst we consider it to be suitable for beginners, it is also the perfect project through which to advance your skill level and learn new beading techniques and stitches. So, if you are a beginner level designer wanting to take on a slightly more challenging project, this is the one for you!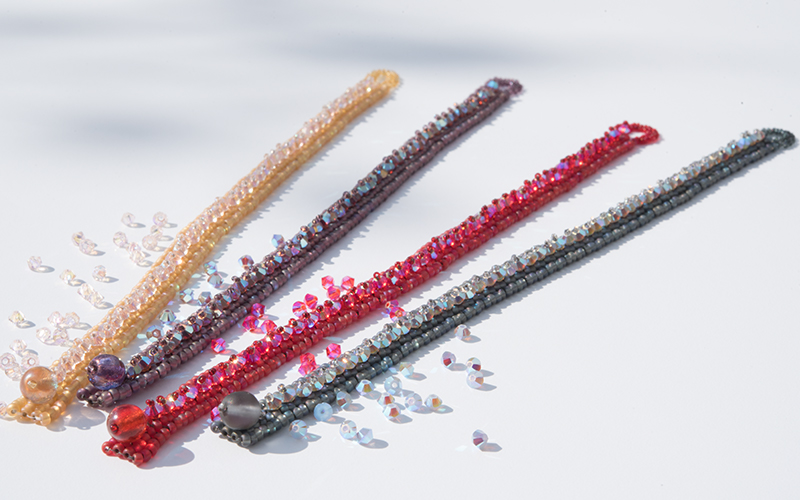 New skill: The Ndebele Herringbone stitch
The band of our tennis bracelet features a distinctive herringbone stitch in which pairs of uniform 11/0 Preciosa seed beads are sloped towards each other to create a stable platform for the Swarovski crystals above. The thread path of the herringbone stitch leaves very little exposed thread, which makes the stitch ideal for this modern bracelet design.
To help you master this new beading technique we've created a video tutorial to talk you through the process.
Did you know? The herringbone stitch originally came from the African Ndebele tribe, a cultural group from northeast South Africa. The stitch pulls pairs of beads into a distinctive V pattern similar to herringbone stitch patterns used in knitting and crochet.
Game, set and match!
The final element of your bracelet, (and the element which we hope will mean you avoid any Evert-like jewellery misdemeanours!), are the beaded catch and fastener. These are created using a single 6mm round Czech glass bead for the catch, and a simple loop of size 15/0 seed beads for the fastener.
Then, all that remains for you to do is to put on this little smash hit of a bracelet and voila, you're match ready!
Happy beading!
Kate, Jonathan and all the team at Boundless Beads.
About Boundless Beads
Established in 1992, we are a UK-based, family-run business. We supply exquisite artisan beads and beautiful hand-crafted jewellery elements to the hobbyist market and to wholesale partners up and down the country.
We are privileged to work closely with some of the industry's best glassworkers and bead-makers, many of whom hail from the world-renowned Bohemian dynasties of the Czech Republic. Many of the beads we sell are entirely unique to our collections and can be found nowhere else in the marketplace. Please visit us at www.boundlessbeads.com