At Boundless Beads, we pretty much work only with BEADS. We enjoy the challenge of creating beautifulJewellery with beads as our medium. Working with beads requires a good familiarity, specifically with the shape and size; this gives a head start when taking a design from the imagination and bringing it to life. A good palette is essential as personal taste and fashion influences, will effect the shape and colour of the finished design.
One of our favorite collections of beads is the Swarovski Crystal palette. These exciting and dynamic crystal beads, bring extra glamour, chic and dynamism, to the creative repertoire.
Working with Swarovski 5328 Xillion crystal beads is one of the best choices you can make, when working with crystal beads. Swarovski are at the cutting edge of crystal manufacture and fashion, regularly launching on trend crystal bead colours. It is these new and exciting colours that we love to share!
New Colours
Twice a year Swarovski® brings out a new set of colours or effects, the latest Innovations for Spring Summer 2017, are the colours Graphite and Yellow Opal. These crystal beads are highlighted by Swarovski as part of their collection representing, 'The Balance of Nature'. Graphite is a grey shade with occasional whispers of deep blue, while Yellow Opal is a semi transparent or translucent crystal bead colour, which took five years to develop which we think makes it extra special.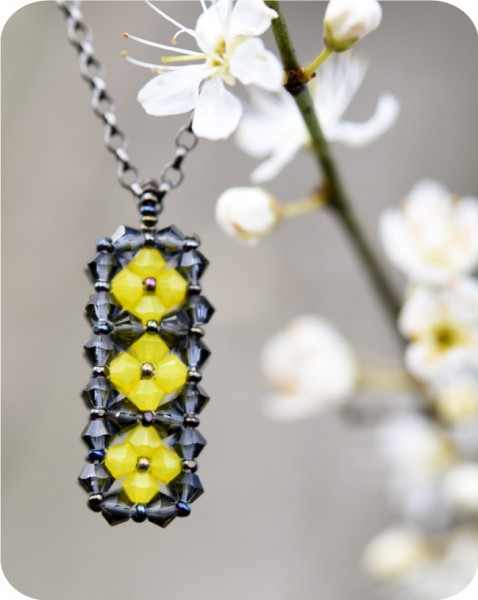 Designing a Pendant
Initial thoughts were, that Graphite appeared to be a somber colour, with the Yellow Opal appearing to be the star capturing all the attention. But like all designs, going back to the drawing board at least once is a matter of course. The Yellow Opal is a very daring colour and it soon became clear the design in mind was just a little to bold to use the new, Yellow Opal crystal bead alone. Perusing over the Graphite crystal bead, the subtle energies of the Graphite presented themselves, by way of offering a twist, when working the two new crystal colours together within my design. Perfect for representing hidden mysteries, but also working superbly as a connective colour, the Graphite harmonizes the energy of the Yellow Opal while drawing on its own brilliance and drama, creating a natural balance.
These two colours could not be more opposite, Graphite is a serious, calm colour while Yellow Opal is an explosion of light and energy; the colour is daring and wild. The resulting design captures the essence of both of these colours beautifully.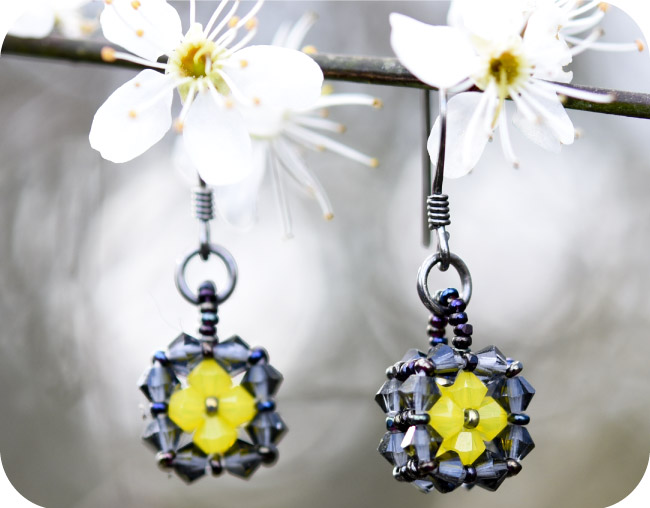 We like to share our Swarovski crystal, but we also like to share our experiences too. We have created a kit forthis Jewellery piece, which includes the Black Finish sterling silver components that tone with the new Swarovski colours to perfection. To complete the design we have added size 15/0 Czech charlottes.
Swarovski work in the world of glamour where their stones reflect current trends. Swarovski crystals are applied in every possible manifestation of fashion from the outfits of Pop Stars, to sports clothing.
The desire to experiment with a colour that is new, is a delicious feeling. Excitement bubbles as the design possibilities stimulate the imagination.
After short winter days and long nights the Yellow Opals glamour is quite fascinating. The choice of application and design are the next questions, on how best to celebrate this new beauty, and give it the platform to perform to the best of its potential.