The history of scarves, and how to create a unique statement-piece beaded woollen scarf.
From humble beginnings, scarves have grown from being the most basic of clothing staples to becoming the must-have fashion accessory of the well-heeled lady or gent, and the epitome of sartorial elegance.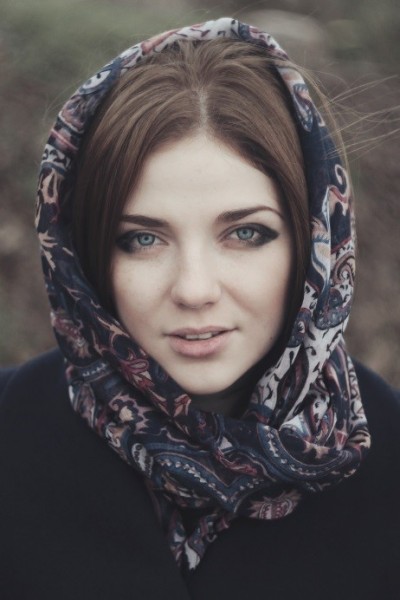 The elegant silk headscarf became the epitome of high fashion in the 1950s.
Cultural icons including Audrey Hepburn and Jackie Onassis influenced an entire generation into the wearing of elegant silk headscarves in the 1950s and 60s. Meanwhile, their more practical woollen counterparts (as favoured by Rupert the Bear and Harry Potter!), gained their own place in high fashion history when Burberry began selling their chic plaid versions in the 1920s. However, many people still run with the idea that silken scarves are worn for elegance and for 'finishing off' an outfit, while woollen scarves are ultimately worn on top of an overcoat to ward off the winter chill.
Woollen scarves - as immortalised by Burberry in the 1920s – are not just about warmth.
In this blog, we wanted to introduce you to the idea that a woollen scarf can be both practical and highly elegant. We will show you how the subtle addition of beading within a woollen design can offer you a stylish and delicate accessory that can complete any daytime or evening outfit with just as much impact and panache a silken scarf could.
How to create your own woollen beaded scarf

When designing your woollen beaded scarf, especially if you want to be able to wear it in the evening, or with more formal outfits, it's important to consider the thickness of your yarn, in order to avoid a finished product that will look heavy and clumpy (unless this is the look you are going for). Placement of your beads within the pattern is important too – do you want a beaded fringe that will work with matching jewellery, or set off the colours in your outfit, or are you wanting to incorporate small glass beads throughout the design so that your scarf will catch the light and shimmer as you move?
In the example scarf which we've shown below, we went for a soft, hand-dyed, pale pink 50% merino, 50% silk wool, and chose a relatively narrow scarf pattern in order to ensure the finished product looked light and delicate. We enhanced our design with a fringe of our latest glass seed beads which are new to our Preciosa Ornela range, and which we're all a little bit in love with! We chose the silver lined 'Berry Pink' and ' Ice Pink' shades to emphasise the colour and texture of the surrounding yarn, and because it catches the light beautifully as the scarf moves.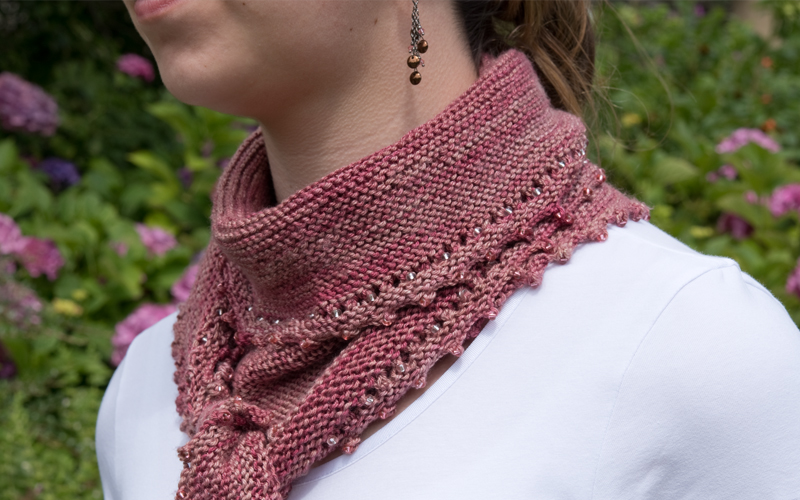 This elegant knitted scarf is perfect for daywear, and is fringed with glass beads to give a pretty, scalloped edge.
The pattern is available from Louise Zass-Bangham
Once you have selected your yarn and beads, this handy video will show you the best technique for incorporating the beads into your pattern. If you are hoping to achieve a similar finish to our scarf, the beads we incorporated are size 5/0, and we used a 0.75mm crochet hook with 4ply yarn. Good luck, have fun and be sure to send us a photo of the finished scarf!
PS. Scarves…did you know
Before you go, here are five fascinating facts about the history of scarves which we couldn't resist sharing!
No-one knows exactly when and why the first scarves were worn, or by whom, but historians believe that scarves almost certainly developed in various cultures and locations at different times, entirely independently from each other.
In China, under the reign of Emperor Cheng from 220-210 BC, scarves were used by officers in the military to signify rank.
In Ancient Rome, the Romans used a 'sudarium', which translates to 'sweat cloth', as a way of keeping clean and wiping sweat from the face and neck.
In 17th century Croatia, all military personnel were given scarves to signify their rank; the officers wore silk scarves while everyone else wore scarves of cotton.
Some of these Croatian soldiers went on to fight as mercenaries with the French and continued to wear their scarves. These scarves became known as 'cravats', which translates from the French 'cravate' to mean 'Croat'! The cravat is thought to be the precursor to the modern tie.
About Boundless Beads
Established in 1992, we are a UK-based, family-run business. We supply exquisite artisan beads and beautiful hand-crafted jewellery elements to the hobbyist market and to wholesale partners up and down the country.
We are privileged to work closely with some of the industry's best glassworkers and bead-makers, many of whom hail from the world-renowned Bohemian dynasties of the Czech Republic. Many of the beads we sell are entirely unique to our collections and can be found no-where else in the marketplace. Please visit us at www.boundlessbeads.com