Your guide to creating exquisite, floral, hand-crafted table favours, cracker gifts and stocking fillers this Christmas.
When it comes to Christmas, most of us don't have the time or inclination to try and achieve an all-out handmade nirvana a la Kirsty Allsop. Yet, finding original, quirky, personalised gifts and stocking-fillers for friends and family who, let's face it, have everything anyway, is always something of a headache. You want them to love what you've given them, and you want to feel that your gifts are meaningful and appreciated, and all without breaking the bank. We may have just the ticket for you…
Handmade and hassle-free
By December, slippers, hankies and sweaters have worn thin, and so too has the idea of giving them as Christmas gifts (again!). So, we wanted to introduce you to the idea of creating small, handmade gifts which won't have you locked away in a workshop for hours surrounded by a gazillion cups of cold tea, but which will allow you to give unique, meaningful, beautiful gifts that (we hope!) your friends and family will love and cherish.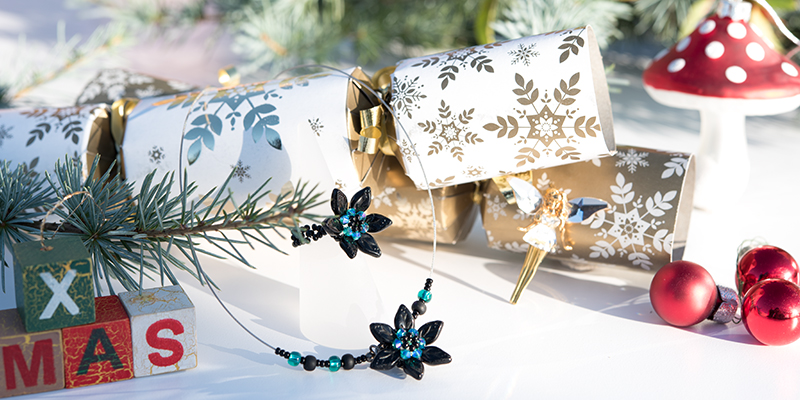 Ring out the bells!
We have created this fabulous festive floral ring project to allow you to introduce just the right amount of handmade pizzazz to your Yuletide celebrations. The process of creating these dramatic little centre pieces couldn't be easier (definitely what we'd class a 'beginners' project') and with the ring strap made from elasticated cord for easy fit and comfort, even Great Aunt Maud with her arthritic fingers can join in the fun!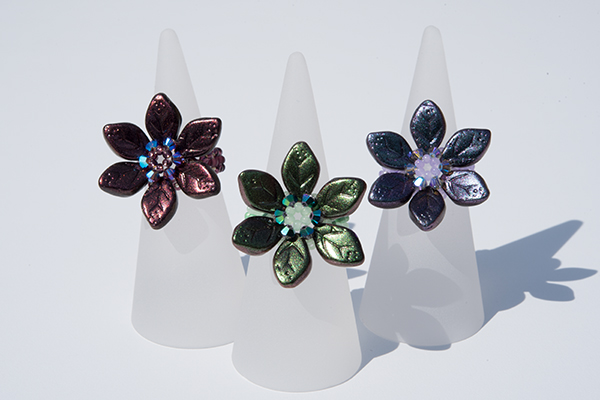 The project is the perfect fusion of three traditional forms of glass bead elements (see, we said it was simple!):
Stunning pressed Czech glass leaves which we've commissioned specially for this project and which come in a range of ten gorgeous metallic finishes. Our favourite Swarovski® crystal 3mm bicones (be sure to check out new Shimmer2 Effect,which is exclusive to Boundless Beads). And, our highly-versatile Preciosa seed beads in size 9/0 and 11/0.
Let's get making!
Creating the flowers themselves can be done as a standalone project. You can then incorporate them into fabulous festive rings and necklaces using either elastic bead cord for your rings, or simple clasps and cable for your necklaces. To get started, download our FREE ring instructions and follow the three steps below.
Step 1
Choosing your petal colour is central to this project. We have commissioned these delicate glass leaves in ten shimmering metallic hues, so there's plenty of choice to allow you to personalise each flower you make. You can browse the full selection here (NB. You will need six separate leaves for each flower you want to create).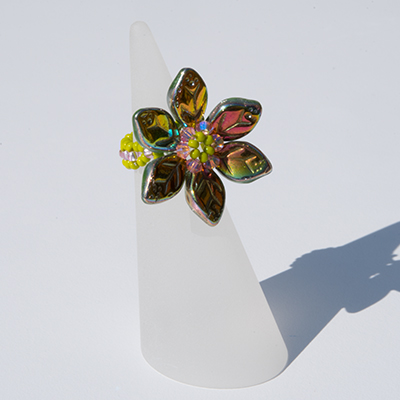 Step 2
Having chosen your petal colour, it's now time to select the Swarovski® Bicones in a contrasting or complementary colour; the choice is yours! These shimmering crystals will make up the outer ring of beads at the centre of your flower and can also be incorporated into the main body of your necklace.
Step 3
Finally, it's time to choose the size 11/0 seed beads that will make up the very heart of your flower and which can also be incorporated into the body of your ring or necklace. These versatile little glass nuggets come in a myriad of colours and finishes, so you really can have a lot of fun with your colour selections.
NB: If you would prefer to leave the bead selection to us, then we have added a range of our favourite colour combinations as starter colorways on our website. These contain all the beads you will need to get going with this project.
And now, it's time to get germinating your flowers! Have fun
A cracker of an idea
We think these gorgeous little floral rings make for the perfect handmade Xmas gift or table favour. Or, how about incorporating them into your Christmas crackers for added wow and surprise!
FUN FACT: Did you know, Christmas crackers were first invented by Tom Smith, a London sweet-maker, in 1847. Following a visit to Paris, Smith filled his crackers with traditional French bon bons which were wrapped in twists of coloured paper! Fast forward to 2017, and we think it's high time somebody replaced the bon bons with beautiful treats of glass bead jewellery!
And finally…
If you'd like to create matching necklaces too, then they really couldn't be easier. Simply create your flowers using the instructions above, and thread them onto necklace chains (our sterling silver chains come in three finishes - Sterling silver, Black Finish and Gold Finish)to create simple, eye-catching statement pieces. Add a clasp and voila; the perfect handmade jewellery gift at your fingertips!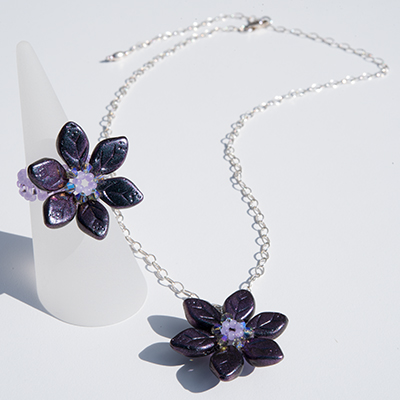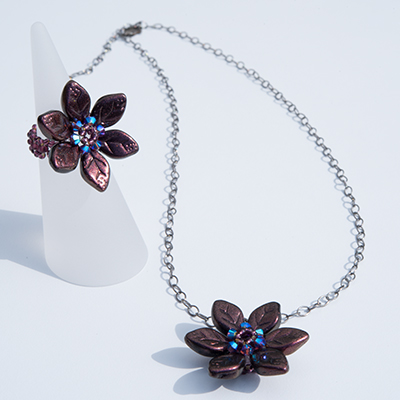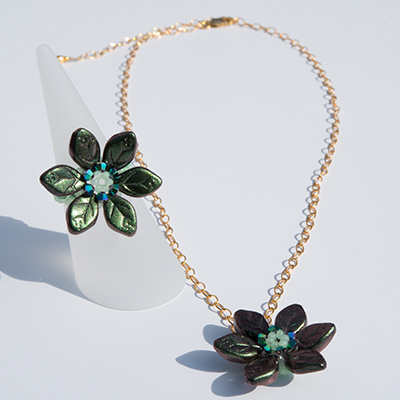 We hope you enjoy this project as much as we've enjoyed creating it. Just remember, this project is all about being creative and having festive fun with some of our favourite glass bead elements. It is also about encouraging you to create gifts that are personal, unique and lovingly handmade to wow your family and friends this Christmas.
We hope we've made you think outside the (normal present) box with this one!
Happy Christmas one and all!
Kate, Jonathan and all the team at Boundless Beads.
About Boundless Beads
Established in 1992, we are a UK-based, family-run business. We supply exquisite artisan beads and beautiful hand-crafted jewellery elements to the hobbyist market and to wholesale partners up and down the country.
We are privileged to work closely with some of the industry's best glassworkers and bead-makers, many of whom hail from the world-renowned Bohemian dynasties of the Czech Republic. Many of the beads we sell are entirely unique to our collections and can be found nowhere else in the marketplace. Please visit us at www.boundlessbeads.com